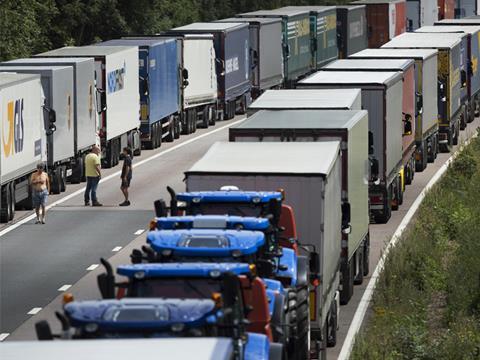 We know these are not normal times. But any normal government, in such a grave crisis as this, sending the country into enforced hibernation for a second time, would recognise that Brexit is an unnecessary additional risk right now.
A deal has still not been brokered. Hundreds of questions are still unanswered. And for hospitality and parts of manufacturing, some of the technical people who have been making preparations will now be on furlough for at least a month. But even supermarkets and suppliers to the grocery trade will hardly find it much easier with all the uncertainty and extra paperwork.
Perhaps we will get a last-minute deal. But even if we do, the prospect of coping, with so many retailers and wholesalers close to oblivion, is hard to imagine. And if we don't it will be far worse. Yet the government is clear on only one thing: regardless of the plague on all our houses, we are leaving on 31 December. And it has basically opened the borders until July and given food companies up to 21 months to change labels. So their argument is: not only have you had time to prepare, we are giving you even more time after January. Big deal!
Many businesses simply have not had the time or focus to prepare, notwithstanding the late, partial and confusing guidance from government in recent days. It doesn't actually matter whose fault that is (though the government is getting its excuses in early). But if we can see a car crash coming, we all ought to be trying to avoid it rather than waiting for it happen (with excuses at the ready).
Even with the UK's plan to phase in checks on EU goods entering the country over six months, health documentation on animal and plant products will be required from April. And businesses will still likely need to complete the paperwork from 1 January, even if they won't have to file it until later in the year. Many companies are struggling to comprehend how they will have the time and expertise to do this. As we've previously reported, some have chosen therefore to delay.
The shortage of customs agents and vets doesn't help, either.
Meanwhile, the EU has said it will have full checks in place from January. But many exporters won't be ready for this and delays at Calais mean delays at Dover. Trade in both directions will therefore be disrupted and the finely tuned transport links criss-crossing the Channel will become clogged.
Defra is supposedly much more relaxed about imports than exports because it has more control. On tariffs for example, though it has threatened to deploy them, would they really cause a huge price spike in the midst of both winter and a recession and a lockdown – over an issue (Brexit) that has long been superseded in eyes of the public by Covid and all its grisly repercussions? Surely not. But we are in Emperor's Clothes territory here, where opinions are only welcomed when you are either a true believer or someone who is not going to speak out of turn.
There is at the same time a distinct air of complacency that because food supplies did so well during the first lockdown, they will cope with Brexit in their stride, even on top of the second.
But we got through the first lockdown because everyone was pulling in the same direction and working around obstacles, rather than trying to put new checks and processes in place. Lockdown 2.0 is potentially more challenging also because it comes ahead of the 'golden quarter'. Meanwhile, absence levels may be much higher (as a result of more testing) and financial and physical reserves are much lower, having already been depleted earlier in the year. So Brexit, deal or no deal, on top of that, risks pushing us to a genuine breaking point.
Even if imports go swimmingly, the situation with exports could come back to bite the government. The National Audit Office has warned in a report out this week of "significant disruption" in January, with traders "very unlikely" to be ready for checks the EU is due to impose at its borders. And time was "limited" for UK ports to test new IT systems.
And we've already seen this week, in miniature, what a lockdown in Kent might look like. That was over an outbreak of avian flu in Deal. This is a much bigger one. Even bigger than Brexit.