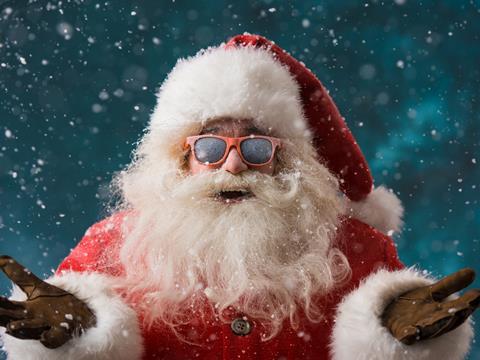 Who saw that coming? But as much as I want to credit all the supermarkets for their improved festive trading results this week, the timing of Christmas this year looks significant. In fact, it offers up a solution to all future Christmases. Henceforth, the government should arrange for Christmas Day to fall on a Sunday every year - with balmy/barmy 15C temperatures on the 24th to boot. Can't be more difficult than Brexit, can it?

Still, should we really be surprised in these unpredictable times? This week, the Bank of England's chief economist likened its own projections on the UK economy post Brexit as a 'Michael Fish' moment - a reference to the hurricane the former weatherman failed to spot.

Yet with inflation clearly on the way in 2017, one does wonder if consumers saw this Christmas as the end of an era, a last hurrah, knowing that the genuinely great deals on offer at the supermarkets may never be repeated. It's one thing to have confidence in a deflationary market, quite another when inflation chips away at discretionary spend. The phrase 'Just About Managing' has emerged from nowhere in recent months. One wonders what will happen to the JAMs tomorrow?

Certainly if inflation in the Jams & Spreads category (see what I did there?) is anything to go by, confidence will surely take a knock - especially when punters find out the price of Marmite really is going up. After Marmitegate, they might have been forgiven for thinking Tesco had saved the day. And even after Morrisons put the price of Marmite up, it hastily reversed it on the iconic 250ml SKU. But as we report, Asda has since joined Morrisons in hiking the price of most Marmite SKUs (save for the 250ml SKU again).

It's in the biggest categories, however, like meat & fish, fresh produce and booze, that inflation will be most felt. (And that's without factoring in the sneaky shrinkflation in confectionery.) While this month's GPI doesn't declare deflation at an end (though curiously Kantar did), inflation has returned in ambient, baby, chilled and frozen. Fresh produce is close behind. And meat & fish will inevitably follow.