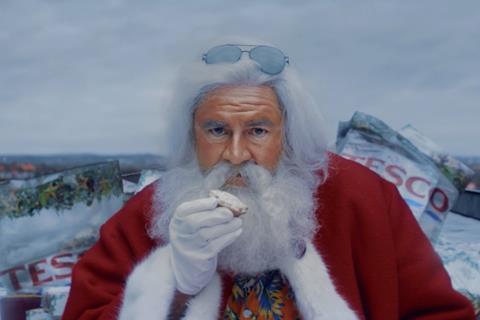 Covid 19 has been a real test of tone for supermarkets. And with the Christmas ads it's easy to slip up. Should you tug the heart strings? Try to make shoppers laugh? Or just urge shoppers to tuck in to all the lovely, luxurious grub?
These are all tried and tested routes but in a Christmas like no other, sensitivities are heightened, while the social media crowd plays King Herod, ready to slaughter and slay. So how have supermarkets tackled the advertising obstacle course? What do their efforts tell us about how Christmas? And in this bleak midwinter, has anyone slipped up? Our panel of experts have given their view. Here's my 10 cents.
John Lewis and Waitrose have joined forces ('together we can make a difference'!) to tackle the sense of isolation and loneliness lockdowns have brought. The ad is overt in its aim: with barely even a subliminal sales message, it wants us to give a little love (the oldest Christmas message of all) and raise a little money (for FareShare and Home-Start). For its middle class audience it's nothing you wouldn't expect.
Asda's ad is the polar opposite. "The parties might be smaller," says chirpy dad Sunny, "but we can still have great food." It's as subtle as the Christmas lights Sunny puts up, but good natured, and delivers on a message of (online) service and, of course, price: "the Christmas we all need, at prices we all want."
With extended family gatherings apparently off the menu, Sainsbury's offers a bravely nostalgic reminder of what we're all missing this Christmas. The ads feel quite upbeat as they attempt to evoke happy memories of the connection between food, Christmas and home. It manages to be upbeat despite its maudlin theme. And choosing a black family in the 'Gravy' ad, the first in a series of three, is a two fingers to Laurence Fox & Co. I'm just not sure what it says about Sainsbury's.
The Morrisons ad depicts a series of (small) parties in the one ad. The welcome home for the hero NHS worker mum from her shift, ready to celebrate Christmas, is one of several warm touches. Some of the parties, while studiously featuring six people or less, felt suspiciously multi-generational, however. Does Morrisons know something about the PM's Christmas bubble plans we all don't?
Tesco and Lidl have gone for comedy. Tesco's humour is the more subtle: with its promise no one is on the naughty list this year, it captures the nation's need for some indulgent licence.
Lidl's mockery of Christmas ads, including a humorous pop at Kevin the carrot at arch-rival Aldi, is more timeless, and steers dangerously close to bad taste with its dismissal of a glum-looking grandad in favour of another product shot. It just about gets away with it, but a Lidl logo Christmas jumper? Who would wear one of those?
Aldi takes the old-fashioned feel-good route with a Christmas homecoming featuring Kevin the Carrot and his prickly sidekick (a hedgehog, not Covid). There's a nod to the NHS (on Santa's grotto) but the wrap ('Christmas together with those you hold dear') is skating on thin ice – albeit it's in better taste than Aldi's Christmas brochure, which gloats 'There's nothing quite like Christmas together', while a party food spread ('Did Somebody Say Party?') feels equally tone-deaf.
Marks & Sparks also adopts a somewhat head in the sand approach. 'What a year!' Olivia Coleman starts, before the ad reverts to type, in a melange of glitter-filled food porn. But there's a charity message tacked on at the end, so that's OK.
Still, at least it's giving money to charity. (Even though it's a bit of a charity itself these days.) Meanwhile, Amazon has produced 'The Show Must Go On'. With the performing arts decimated by the pandemic, its message could be uplifting if Amazon was actually helping out a bit more. But Jeff Bezos, who has the wealth to be a real-life Santa, has the heart of Scrooge.