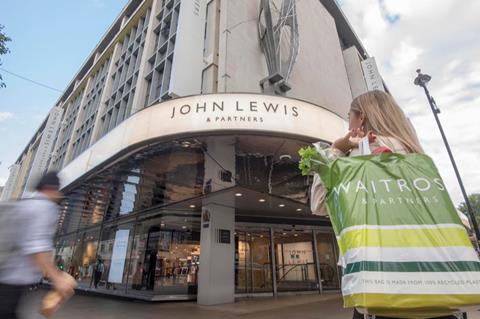 The Tesco tenure of Dave Lewis has laid to rest once and for all the absurd notion that suppliers can't make good retailers. By common consent Lewis has done a great job, and the latest results reinforce that. So now that Lewis is off, Ken Murphy – a retailer but not a grocer – has big boots to fill, especially as the Boots he's been wearing have been quite a tight squeeze in recent years.
But I would rather be in Murphy's shoes than those of incoming John Lewis Partnership chairman Sharon White. For it's one thing to have no experience on the retail side but to have no experience on the supplier side either – in fact, no experience in business at all – is quite another. And the crisis she is inheriting at the Partnership is as challenging as anything facing Lewis when he joined Tesco. If there isn't the stench of scandal, as there was for Lewis, the high street is tougher, especially for department stores, and this bellwether of middle-class retail respectability is listing, posting a loss for the first time ever.
On the supermarket side there is trouble in store too. True, Waitrose profits are up. Availability has improved. The selection is better differentiated. The e-commerce arm is better too. But the loss of the Ocado business – more than 5% of sales – cannot be easily replaced, especially now the Today Development Partners solution has gone up in a puff of smoke.
The solution is dramatic. Outgoing chairman Sir Charlie Mayfield has unveiled plans this week to merge the two businesses, with 75 of the 225-strong senior management team set to be axed, including Waitrose MD Rob Collins and Waitrose supply chain director Wim van Aalst, in a £100m cost-cutting exercise. This will further ongoing work to centralise finance, legal, personnel, IT and property functions.
And there are synergies to be made. It's ludicrous Waitrose sells Waitrose-branded pillows, kitchenware and other GM. It's bonkers John Lewis sells John Lewis-branded ambient food and drink. Such anomalies reflect long-term enmities within the two businesses and Mayfield is right to fix them, albeit belatedly.
But hybrid food/GM businesses are notoriously tricky to unite: Archie Norman is taking M&S the other way, and Dave Lewis retired Marketplace. It's also hard to see an obvious customer benefit, as with Sainsbury's acquisition of Argos, unless there's a significant increase in the number of John Lewis stores selling Waitrose food or a bigger GM range in Waitrose.
On the trading side, too, there is also a world of difference between buying British beef and sourcing electronics from the Far East (hence Asda re-splitting George under Roger Burnley). The same is true of customer service and logistics.
The drastic solution would be to sell off the supermarkets, but with 25% of John Lewis sales picked up via click & collect at a Waitrose, the two businesses are interdependent. (And in any case the Partnership would not countenance it.)
Instead the plan is to get this pain out the way before Sharon White arrives in February. But it will create huge uncertainty, with a new and far from straightforward modus operandi set to be implemented by an unproven businesswoman. White is highly regarded as a regulator and civil servant (and JLP is arguably the closest thing to the civil service in retail). By all accounts she has an incredible intellect. But it's a big ask.