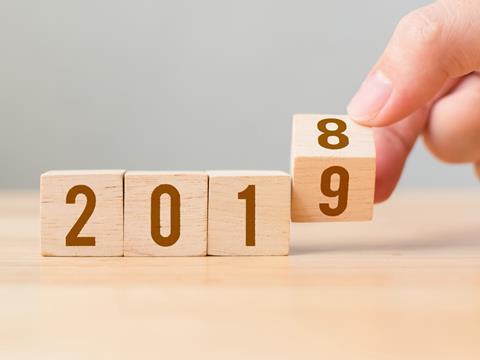 Apart from the war on sugar and the glut of Veganuary product launches, this week is a bit of a tease, news-wise: a case of calm before the storm ahead of next week's Christmas trading results – and that vote. So, we've looked back at the tumultuous events of 2018 as a reminder of the context for this year. And we've also asked experts to gaze into their tea leaves, with predictions on everything from the Jasda showdown (the preliminary findings are not now expected until early February) to hot trends like home delivery. And Brexit, of course.
In the meantime, we've been looking for even the smallest harbingers of the high street's impending doom, which everyone is predicting next week, in the media and in stores. And it's been thin pickings. While the casualties certainly continued over Christmas, with the demise of HMV, coverage around the food and drink industry has been relatively tame: funny smelling turkeys that 'ruined' Christmas; disappointment over missing items and irritating substitutions in online orders; and more bizarrely, several customers received a single brussels sprout in their online Sainsbury's orders.
Controversially, Asda chose to give away free winter vegetables last week at the entrance to stores to get rid of excess stock. But it's hard to draw broader conclusions over this locally organised initiative. Like Tesco running a January sale on stilton, cheddar and double gloucester cheese, or Sainsbury's offering 10 Nectar points (rather than the usual one) on fruit & vegetables, however much they dress it up, these moves are no different from the practice of other retailers who do their level best at this time of year to clear unwanted stock.
That certainly appears to have been key to the strong showing from John Lewis in its two-week trading update. As the only food retailer to offer even a smidgeon of info the news from Waitrose was harder to gauge as sales were all over the shop (down 12% the first week; up 19% the second) due to the wonky Christmas calendar. Given the first week is more important than the second, trading-wise, though, it seems safe to assume that sales will be down. How much? You'll just have to wait and see.