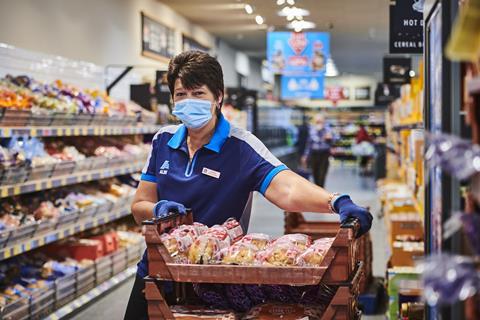 Aldi and Lidl are back to winning ways: stealing share for the first time since the outbreak of the pandemic, according to the latest Kantar figures.
It's not hard to see why. As well as opening more stores, reliance on online has diminished. As restrictions are reduced, shop frequency is increasing again, and the average number of items has fallen from 14 last year to 11.7, so closer to the 9.9-item norm. And credit to the discounters. As well as grocery online delivery, click & collect, and app-based loyalty card programmes (three unthinkable developments not long ago), they've tackled shopper safety issues with traffic light systems and other measures to reassure them it's safe to shop in their smaller and more densely packed stores. As guest retailer this week, Aldi even won our Grocer 33 store of the week.
Above all, the currency of value has risen once again in the shopper's list of priorities, as the national vaccination programme rolls out. And value's where the discounters play their jokers. Despite Tesco and Sainsbury's price-matching Aldi on selected items, our latest Grocer 33 shows them 16% and 21% off the electric pace Aldi set in this week's basket.
So normal service has resumed then? Hardly. True, food to go sales are picking up: Greencore expects to be back at pre-Covid levels by the end of its financial year, and on the foodservice side, Greggs, McDonald's, Restaurant Group and Gail's report better than expected sales. Indeed the stock market is giddy at the prospect of a return to normality.
But this market is anything but normal. Although road traffic is up, there's still plenty of seats on trains and buses. London is still desperately quiet, like a hot August weekend. Strangers are given a wide berth – and a mask-clad one at that.
And despite like-for-like sales being flat (–0.4%) in the Kantar results, the best insight comes from its 2019 comparatives, up 13.9%, making Aldi's 16.2% and even Lidl's 21.6% look less exceptional vs Ocado (52.9%), Iceland (21.6%), symbols and indies (20.6%), even Waitrose (14.7%). We are a long way from 'back to normal'. And all the grocers, and their suppliers, are set to benefit for some time to come.