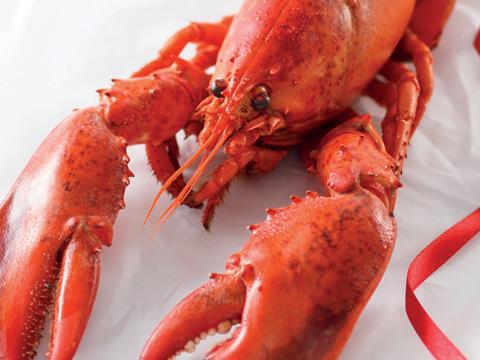 Lidl has become the first UK supermarket to sell a whole MSC-certified lobster.
The wild-caught whole lobsters, which launched in Lidl stores nationwide today (rsp: £4.99), are sourced from a fishery in New Brunswick, Canada.
Small-scale fishermen use small boats and baited traps to catch the lobsters, which are cooked and frozen locally before being shipped to the UK.
Lidl has worked with the MSC over the past year to build up its range of certified sustainable fish and shellfish. Nearly half (41%) of its wild seafood products are now MSC-labelled, a 24% increase on 2014, and 100% of its fresh wild caught fish is MSC-certified.
"We first introduced Marine Stewardship Council products into our stores in 2006 and have continually expanded this range ever since," said Alexandra Scholes, fish and seafood buyer for Lidl.
"We are proud to be the first British supermarket to sell MSC-assured whole lobster."
Toby Middleton, programme director North East Atlantic for the MSC, praised the discounter for showing "a real commitment" to sustainable seafood sourcing.
"This lobster is a perfect example: a great value, sustainable product from the cold, pristine waters of Canada. A perfect Christmas treat," he said.