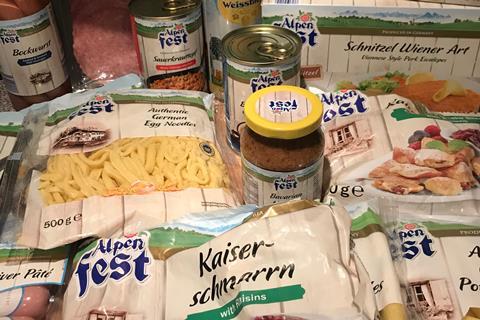 Lidl continues to pile growth on growth, month after month, year after year. In Kantar Woldpanel's latest data, its sales are up 7% versus a year ago, and market share is at 5.3%. There is almost certainly more growth to come, helped by a continuing stream of new stores, as it enters many towns for the first time.
So how is it winning and what can we learn?
Firstly, it places "big bets" on specific categories. Strategy is about making choices and Lidl invests disproportionately in some areas.
Bakery, unusually, is at the front of store, welcoming shoppers. It is well merchandised, well lit, typically very clean and signals freshness. It includes good quality, great value food to go, such as topped focaccia, pizza slices, sweet pastries and even pastel de nata.
Fresh meat is merchandised behind glass in high-quality cabinets. This is unusual in the UK, but surely in a category where freshness and hygiene are everything, it is the right approach.
The wine range is relatively small, but there is helpful shopper advice from Lidl's Master of Wine, describing the taste, what it might go with, and when to drink it. Regular wine events (currently new world wine) keep things interesting. Again, the merchandising treatment and lighting is good. It is clear which categories Lidl is betting on.
Second, it offers something different. It is ironic that in an era when many grocers have let slip their focus on food differentiation, straining to match the discounters on price, Lidl is working hard to bring different foods to its customers.
Its current 'Flavour of the Week' is the Alps, with a wide range of products across ambient, chilled and frozen, such as rosti, croquettes, schnitzel and German noodles. The communication and display wasn't great when I visited, but UK consumers value ideas for something a bit different to eat, so you can see what Lidl is trying to do.
Thirdly, it knows its customers' priorities. Lidl stores feature many branded shippers, often in seemingly random places, available for a few weeks, "while stocks last".
Some shoppers would not like this. Many retailer professionals will instinctively feel it isn't the right thing to do. But Lidl has found that the intermittent boosts to volume that the shippers can offer brands are highly appealing, addictive even, to brand owners. So brand owners will offer very good cost prices to secure the shippers.
The stores may look like a bit of a jumble sale, but perhaps for the Lidl customer, the prices it can offer justify the means. The market share numbers seem to suggest so.
So make big bets, offer something different and know your customers' priorities: three lessons from Lidl.