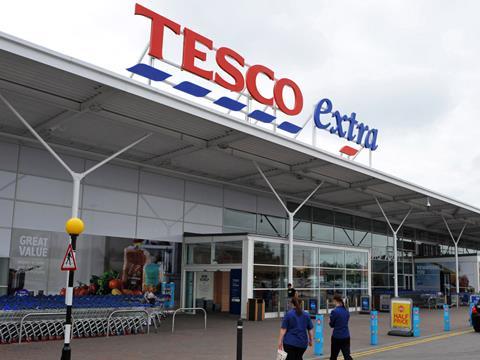 Tesco's reward for delivering stellar UK first-half sales growth and profits progress was seeing its share price thumped, after overseas failings meant it missed overall forecasts.

Operating profits rocketed 24% to £933m in the half-year to 25 August, but this left Tesco £45m behind expectations despite more evidence of recovery in core parts of the business.

Shares plunged 8.6% to 215p on Wednesday, as its overseas business sank its overall performance. Profits in central Europe slipped 3.3%, while profits in Asia fell by 29.1%, driving a 6.5% fall in headline operating profits.

Changes to Sunday trading laws in Poland particularly affected profits and sales, with Tesco losing £32m in revenues and closing 18 of its 429-strong store portfolio in the country.

Despite the market reaction, Dave Lewis had plenty to be content about as analysts suggested the figures showed a strengthening in Tesco's core areas. The UK saw like-for-like sales growth improve from 3.5% in the first quarter to 4.2% in the second. Group-wide sales for the 26 weeks to 25 August rose 2.2% like for like to £28.2bn.
The decision to acquire Booker also continues to look more intelligent by the day, contributing to £97m worth of profit in the UK and Ireland on the back of a 14.7% increase in like-for-like sales.

"Despite the headline miss, we have no issues with progress in the UK, where sales remain strong and the underlying strategy intact," commented HSBC global head of consumer retail research, David McCarthy.

Bernstein analyst Bruno Monteyne suggested the impressive performance by Booker "bodes well" for the group's recovery. However, he flagged the one-off impacts from the closure of Tesco Direct and heavy investment in the Exclusively at Tesco and Farms brands as reasons for constrained profits.

Tesco shares had edged down a further 1% to 212.8p in morning trading on Thursday, but remain up 14.5% year on year.