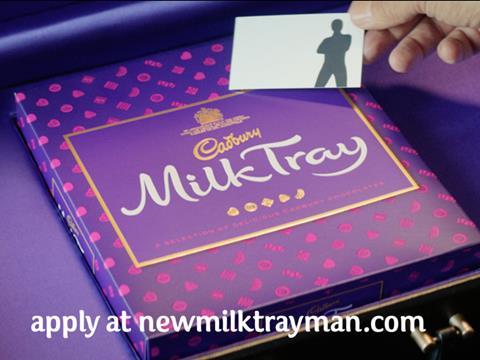 Cadbury is marking the 100th anniversary of Milk Tray with a nationwide search for a new Milk Tray Man.

The Mondelez-owned brand is seeking a 'thoughtful yet daring' replacement for the action hero, who first appeared on screens in 1967, but who has not been on TV since 2000.

It is kicking off the £4m campaign tonight (9 October) with a TV ad that airs for the first time during ITV's The Chase and stars actor James Coombes, who played the black-clad hero back in 1987.

The ad features Coombes watching a montage of scenes from previous Milk Tray Man ads before announcing: "The search is on. New Milk Tray Man, step forward." The push will include cinema, in-store and social media activity to encourage consumers to apply for the role online.

"Since it first launched in 1915, Cadbury Milk Tray has always been the way to treat the woman you love," said senior brand manager Hortense Foult Rothenburger. "However, this sentiment has changed over time and with that so must our hero, who now needs to be thoughtful as well as adventurous.

"Our search for a modern-day leading character is open to anyone that considers themselves to be thoughtful yet daring, and we can't wait to find this someone."

Mondelez has also given Milk Tray a new look and introduced three new chocolates - Salted Caramel Charm, Truffle Heart and Apple Crunch.