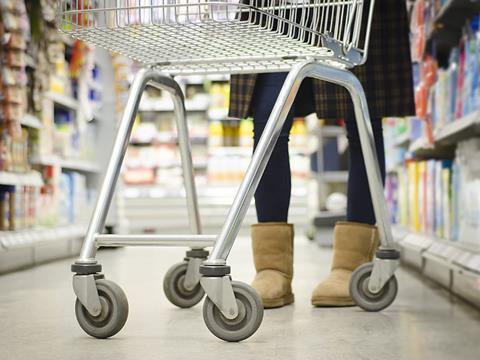 Shopper behaviour and the marketing landscape as a whole have changed drastically over the past 10 years and this is shaking up the marketing focus for fmcg brands. Shopper media has been a part of the marketing mix for some years, but often in the shadows of ATL advertising. However, given the proximity to purchase, transparency in effectiveness and the fact that it is one of the remaining marketing channels to deliver genuine reach, the importance of its role in driving brand growth is more evident than ever.
Brands have increased spend on shopper media by 38% in just three years as shopper media becomes more than just cardboard in store.
Shopper media comprises all and any advertising that can influence shopper behaviour and is measurable. This can range from 'in and around store', to 'proximity to store' through to at-home and digital. In fact, the number of shopper media opportunities available to brands has doubled in the past five years alone. A quarter of all our clients' shopper media spend now goes in to digital media channels, compared with just 8% three years ago.
This breadth of choices will continue to expand giving brands more choice, but with that comes greater complexities. Despite this complex landscape, various fmcg companies continue to invest and increase spend in shopper marketing – and this is not just the P&Gs or Unilevers of this world. Clients with brands big or small are recognising the importance of 'getting it right' with shoppers and the influence this can have on brand growth.
There is a fast-growing, diverse array of opportunities available and brands need to be savvy about how best to use them, to deliver optimal results for shoppers. Brands should be mindful of the importance of effective planning, testing and learning as they go to truly maximise the effectiveness of every marketing pound invested.
UK shoppers now make an average of 26 grocery shopping missions a month, a far cry from the traditional once-weekly food shop mission, and use multiple channels to complete their missions.
The way we shop has changed significantly in the past decade. Shoppers shop more frequently than ever before, largely because they are becoming savvier about price, retailer choice and convenience, while not planning their shops. Shopping missions now span across multiple retailers – from the old favourites to the rapidly growing discounters, as well as across varying store formats – whether it be convenience, main estate or online.
In fact, websites and apps have recently taken the lead as the number one place for shoppers to learn about an fmcg product (overtaking the physical store itself). Thirty-six per cent of shoppers say they regularly research fmcg products online before buying in store, and 48% of Brits now say they do at least some of their grocery shopping online. Omnichannel shopping is becoming the norm. With this level of fragmentation, it's already looking tricky for marketers to land the right message with the right shoppers when there are so many possible places in which to reach them.
Additional capabilities of media, particularly digital such as programmatic display advertising, can now be tailored to influence shoppers directly through combining location and contextual behaviour with shopper-specific data such as EPoS. A hot beverages client recently achieved a 17% sales uplift through applying shopper context to a media channel that is traditionally measured on CTR.
It is inevitable that the way we shop will continue to evolve in years to come. A quarter (24%) of British shoppers say in the next two to three years, it's likely they will use an online subscription service to get their staples delivered. As shopper marketers, we must adapt in order to engage with shoppers whenever and wherever they are in shopping mode; whether this be at home, as they travel, online, in the car park or indeed in the store.
The CPM for many of the newly emerging digital channels is as low as £2.50 vs traditional e-commerce touchpoints, which can be nearer £30.
Digital opportunities can offer less wastage and therefore greater efficiencies to brands; meaning even small brands can get involved as often the entry cost is far lower than traditional e-commerce channels.
A key example of how a digital channel can deliver on a shopper marketing objective is targeted mobile advertising, for which we have seen an average 15.7% uplift for advertised SKU and 4.1% uplift for the brand.
This knowledge, along with a better understanding of effectiveness of media touchpoints and increasing transparency, is making shopper marketing more attractive to invest in for brands. Testing and learning what works is absolutely key to define which 'new' and 'old' opportunities work for your brand's objectives.
For example, the majority of out-of-home six-sheets are now digital. However, our findings have shown that though digital outperforms at a featured SKU level, the traditional paper six-sheets come out on top at a total brand level.
It's not just the out-of-home and digital channels that are evolving. Retailers are also getting more 'digital savvy', with till screens, digital foyer posters and interactive experiential all coming into the store itself. We've even heard of retailers investigating digital shelf talkers! This is all exciting news for the future of shopper media as these new opportunities, when executed correctly, with the right targeting and creative message, can offer an incredibly efficient and engaging way to drive sales and maximise ROI.
After all, shopper media should be the most powerful marketing tool for fmcg brands, so continued growth in the opportunities available and a better understanding of how these channels perform can only be a good thing.
Emma Dean is group client director at Capture