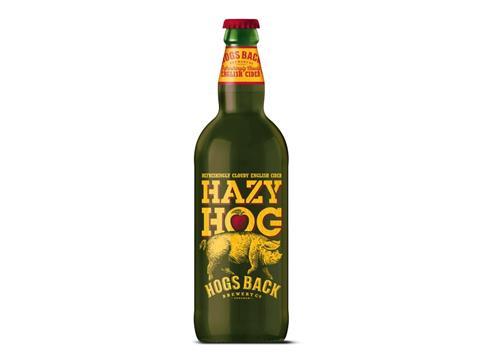 Hogs Back Brewery has begun legal proceedings against Magners, after claiming the C&C Group-owned cider brand had infringed its trademark, Hazy Hog.
The Surrey-based brewery launched cloudy cider Hazy Hog in 2013, and registered the name for use on cider in Trade Mark Class 33.
In June 2014, Magners launched a portable cider dispense system called Cider Hog, using what Hogs Back believed to be a similar name and graphics. Hogs Back owner Rupert Thompson said that at the time, his company contacted Magners to suggest changes to Cider Hog that would resolve the situation.
"Magners denied their mark was similar to ours and pointed out that Cider Hog has been registered in Trade Mark Class 11 (for refrigerated packaging)," said Thompson.
"Over the past six months, we have tried to find a solution which would satisfy both parties, but without success. Regrettably, we have turned to court proceedings, but still hope that discussions may generate an acceptable resolution."
"We are aware of the claim recently issued against us by Hogs Back Brewery over their 'Hazy Hog' trade mark," a spokesman for C&C Group said. "We have been in discussions with Hogs Back for some time over this issue. Whilst we do not believe that there is any possibility of confusion between their Hazy Hog cider and our Cider Hog dispenser, we remain hopeful of finding a resolution of this matter which is acceptable to both companies."