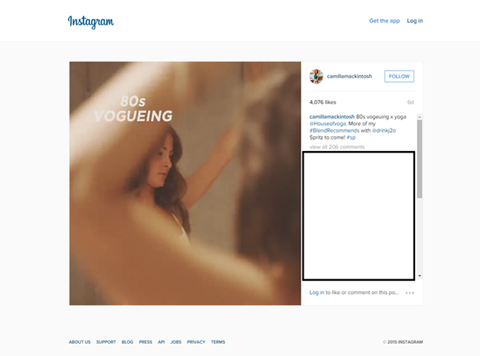 Advertising watchdogs have rapped Britvic for not making it clear a social media push featuring reality TV star Millie Mackintosh was an advert.
A video post from the Instagram account of Mackintosh featuring J2O has been banned by the ASA for not being 'obviously identifiable' as marketing communication.
The ASA upheld a single complaint after it deemed the post, which featured Mackintosh doing yoga and concluded with a scene that included the text J2O Spritz alongside hashtag #BlendRecommends, was not presented in a style that made it immediately clear it was an ad.
Britvic said it believed the video, one in a series Mackintosh posted as part of a commercial endorsement for J2O, was identifiable as a marketing communication, highlighting that the end frame was branded and included the product name, as well as the campaign hashtag #BlendRecommends, "centrally and prominently" on the screen.
The ASA noted the branded shot contributed to the ad being identifiable as such, but was felt it was not sufficient because it appeared at the end of the video.
"We considered consumers needed to be aware that they were viewing marketing content prior to engagement, meaning they should know that they were selecting an ad to view before they watched it," it said in its verdict.
The ASA added the advertising must not appear again in its current form and told Britvic to ensure future ads were obviously identifiable as such, and to make its commercial intent clear prior to engagement.