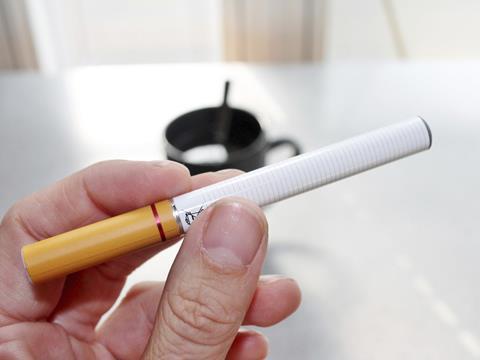 E-cigarette suppliers will be able to show their products on television for the first time under a new code of practice – but they will still have to comply with strict rules to promote e-cigs responsibly.
The new rules were revealed by the Committees of Advertising Practice (CAP) today following a consultation and will come into effect on 11 November.
The new code harmonises broadcast and non-broadcast ads, meaning that e-cigarettes can now be shown on television. Previously, e-cigs fell under restrictive rules designed to prevent the indirect promotion of tobacco products on TV.
"This is an inadvertent and unintended function of those rules," CAP said. "E-cigarettes are not a tobacco product and are not currently subject to the same legislative controls as tobacco. E-cigarettes are also a product of legitimate interest for those looking to consume nicotine without tobacco.
"While CAP understands the concern expressed by many respondents about the representation of smoking-like behaviours, the Committees consider that there is not currently a case for prohibiting the responsible depiction of e-cigarettes, either in broadcast or non-broadcast media, including their depiction in use."
However, adverts will have to comply with these main rules:
Ads must not be likely to appeal particularly to people under 18, especially by reflecting or being associated with youth culture
People shown using e-cigarettes or playing a significant role must neither be, nor seem to be, under 25
Ads must not be directed at people under 18 through the selection of media or the context in which they appear
Ads must not encourage non-smokers or non-nicotine users to use e-cigarettes
Ads must make clear that the product is an e-cigarette and not a tobacco product
Ads must contain nothing which promotes any design, imagery or logo style that might reasonably be associated in the audience's mind with a tobacco brand.
"We've moved quickly to put in place appropriate and clear regulation around e-cigarette advertising," said Shahriar Coupal, director of CAP. "While the debate about e-cigarettes continues our commitment is to make sure they are advertised in a responsible way and that children are protected."
It is the first time e-cigarettes have been subject to specific advertising rules in the UK. The new code comes ahead of legislation around the promotion of e-cigarettes that will come into force in 2016.
Under the new code, suppliers may only make health or medical claims about their products if they have a licence from the MHRA (Medicines and Healthcare products Regulatory Agency). All e-cigarettes will have to be licensed by the MHRA by 2016, a move announced last year.
However unlicensed products will be able to play up "no tar" or "no tobacco" features when presenting their products as alternatives to tobacco.
CAP also rejected proposals to ban depictions of e-cigarette use indoors, saying that while some venues had banned their use, others had not. "CAP does not wish to prohibit depictions of legitimate use of the product or, in so doing, take a view on where e-cigarettes may legitimately be used."
A recent report from the World Health Organisation (WHO) called for e-cigarette use to be banned indoors, and also recommended a ban on manufacturers making health claims for their products.