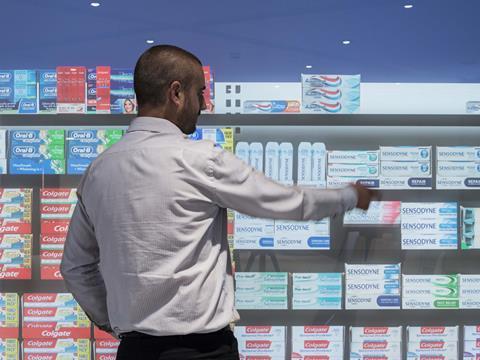 GSK has made a "breakthrough" discovery in shopper psychology and is now encouraging retailers to revamp their oral health aisles, ditching a focus on brands for a focus on shopper missions - such as whitening or sensitivity.

It used eye-tracking technology at its Shopper Science Lab in Brentford, which it claimed enabled it to "break shopper apathy" by laying out products by what they do rather than by brand.

"Eye tracking captures what shoppers see and where their eyes are looking," said lab director Crispin Haywood. "It enables us to carry out studies in real-world environments."

As a result of the research, GSK now believes the ideal oral health aisle would start with regular products and then have different sections featuring a certain treatment, such as 'denture care,' 'enamel protection' and 'gum care.' Retailers should give more space and signage to these extra care products, with lead category 'sensitivity' getting the most space.

GSK also recommends toothbrushes and mouthwashes should have their own aisle sections, and retailers should use "hot spots" - areas of the shelf with attention-grabbing display and signage - to promote new products, offers and oral health education materials.

"The oral health aisle has low engagement from shoppers who tend to reach for the same products over and over again," said GSK global shopper insights senior manager Paul Griffith. Items such as toothpaste tended to suffer from product overload, with little differentiation on packaging, he added.

So far, retailers had provided "extremely positive feedback" and GSK would now send out its findings through its range review recommendations.

These findings could also be relevant to categories other than oral health, said Haywood.