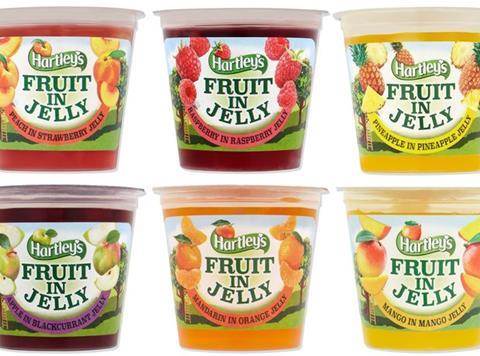 Hartley's is launching a TV campaign to promote its expanded Fruit in Jelly range.
Six new flavours of the dessert pots launched earlier this month in Sainsbury's, Asda and Morrisons: Peach in Strawberry Jelly, Mango in Mango Jelly, Apple in Blackcurrant Jelly, Raspberry in Raspberry Jelly, Pineapple in Pineapple Jelly and Mandarin in Orange Jelly.
The advert, called They Can Hartley Contain Themselves, debuts today (18 January) as part of a £2m support program for the brand in 2016.
"Hartley's new Fruit in Jelly pots are a fabulous tasting and convenient snack choice, and a great addition to our growing jelly pots business," said David Atkinson, MD grocery at brand owner The Hain Daniels Group.
"The TV support will drive trial and sales for both the core jelly pots and new Fruit in Jelly pots ranges and represent a real growth opportunity within ambient desserts."