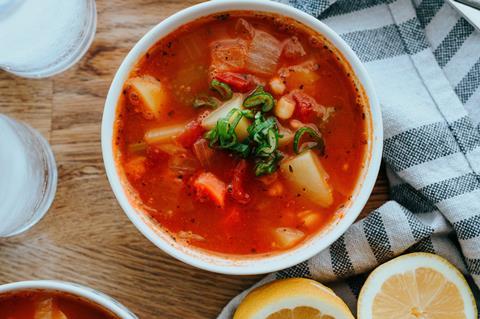 UK consumer confidence hit a record low in July as rising inflation and living costs dampened purchasing sentiment. At the same time, consumer trust in UK food and retailers dropped 8% this year, largely due to perceived lower food safety and animal welfare standards.
Reduced confidence is seeping through to everyday, essential and regular spending, with our own internal Pinterest data finding 70% of users are price-conscious about their current food and grocery spending. Searches for 'budget meals' on Pinterest have tripled compared to this time last year.
Yet at the same time, we've found 90% of our users want to see food-related content online – and, more specifically, content that makes cooking easier. Searches for 'food ideas' were up 45% and 'easy food recipes' also increased threefold. So while more deliberate shopping decisions are taking place, there is still hunger from consumers to discover new and fresh ways to make meals as they reconsider their previous shopping habits.
Instead of putting activity on hold, food and drink brands and grocery retailers have an opportunity to show up, present solutions and rebuild fading trust.
It's important to communicate with customers. Through digital marketing, brands can engage directly with today's connected consumers, especially as they maintain an 'always shopping' mindset when scrolling through feeds and pages.
Over the past six months, we've already seen a number of brands address consumer demands. Lidl recently launched an interactive ad campaign on Pinterest that generated recipes to suit tailored needs – giving the consumer a lightbulb moment without an overwhelming amount of choice. Earlier in the year Waitrose also launched a campaign around its Essential Waitrose range.
Current circumstances are going to make the market competitive, so brands need to remain agile and build brand affinity. The latter can be built through keeping content inspirational and keeping in mind consumers' needs. A global Sparkler study found more than 60% agreed with the statement "when I'm in an inspirational environment or mindset, I'm more likely to explore and discover things to try or buy".
Alongside showcasing discounts on everyday items, or highlighting 'superfoods' that are healthy for both wallet and body, brands need to present what operational action they're taking to show consumers they're on their side.
For example, opening up a clear path for users to turn their inspiration into action – whether it's through e-commerce or making the highlighted product easier to find in-store – will help create an image that is reliable in the eyes of the consumer, in addition to helping brands reach commercial objectives.
There are a number of operational ways food and drink brands can ease the cost of living crisis, but putting a pause on their marketing plans shouldn't be one of them. In addition to loyalty schemes and value promotions, retailers and suppliers should reinforce their brand values and expand to offer practical help, advice and inspiration at these difficult times.