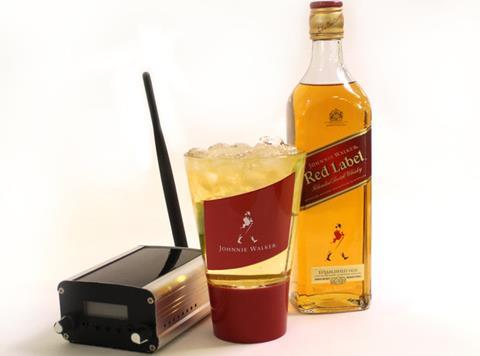 If music be the booze of love, then Johnnie Walker is onto something with this musical glassware.
"The Boldest Glass" contains a device that turns the surface of the glass into a speaker. Bone conduction is then used to carry sound to the user's ear.
Tiny vibrations are transmitted from the glass, through the teeth and lower jaw and into the inner ear – allowing the drinker to hear specially selected sounds that are designed to complement the drink and affect the brain's perception of the flavours.
The audio is sent from an AM/FM transmitter to an amplifier in the base of the glass, which can play up to three channels – allowing drinkers to experience different music as the evening progresses.
The glass can be tried for a month from today (10 April) by customers ordering a Johnnie Walker Red Label and ginger ale at London bar Call Me Mr Lucky.
"This could potentially be a revolution within a culture that hasn't changed in decades," said Johnnie Walker brand director Oscar Ocaña.