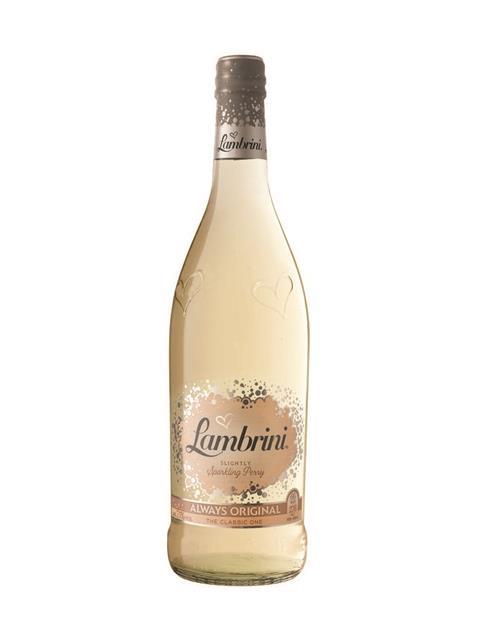 Halewood International is hoping to jump-start sales of Lambrini with a new look and TV campaign.
Retaining the Lambrini bottle shape, the new packaging features embossed hearts on the neck, along with a new label which features a more ornate background. Lambrini Original will feature silver foil caps, and the three flavours of Lambrini Fruits gold.
Halewood is also renaming Luci by Lambrini – rolled out 18 months ago as a rebrand of Lambrini's light range – as Lambrini Skinny Original, which it said would better underline the drink's 22 calories per 100ml and 3.5% ABV.
Halewood added that consumer research had shown more than three-quarters of consumers preferred the new brand design, commenting it appeared more modern, fun or exciting.
The new bottles will be in store from the end of this month, and Halewood will be hoping they can turn around sales of the sparkling perry, which are down 10.4% year-on-year to £42.1m [Nielsen 52 w/e 25 April 2015].
Lambrini is also launching a marketing campaign under the strapline Bring the Brini to highlight the variety of occasions in which Lambrini can be enjoyed. This will centre on a 12-week sponsorship of entertainment channel TLC from 26 June. Five idents will be shown, and will depict social occasions such as 'glamping' and a house party. The sponsorship will be supported with social media activity.
"Our new design and campaign will seek to re-invigorate the category by celebrating the social aspect of the brand amongst female consumers and creating greater stand-out and visibility for retailers," said senior brand manager Michelle Raworth.
"The updated Lambrini Fruits range also responds to greater consumer demand for fruity and lighter flavours, with these qualities now displayed more prominently on the bottle."
Lambrini Fruits includes peach, cherry and strawberry flavours.