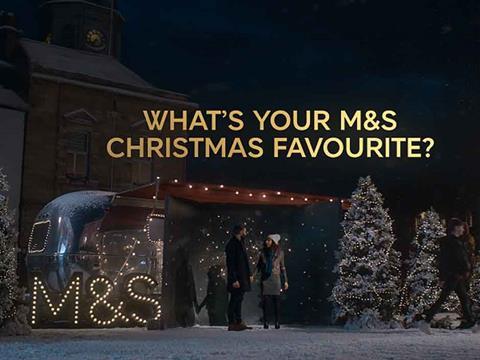 M&S has cast customers and employees to showcase its food in an unscripted Christmas advertising campaign.

Directed by Charlie Stebbings, who directed the original M&S 'this is not just food' advert in 2004, the 12 ads are a mix of 30 and 60-second edits, with social media a key component of the campaign. The retailer is encouraging viewers to share their favourite items seen on the ads on social media using the hashtag #MyMarksFave, which will come alongside an emoji version of M&S's confectionery character Percy Pig, as well as Percy Pig gifs for customers to add to photos and videos on Instagram Stories.

The social media arm of the campaign builds on M&S's What's New at M&S Instagram TV series - monthly videos of TV presenters Rochelle Humes, Paddy McGuiness, Amanda Holden and Emma Willis talking about their favourite dishes from a selection.
"These videos have reached nine million people so far, 80% of which have never interacted with M&S on social media before," said M&S food marketing director Sharry Cramond. "It has proved very effective in attracting a new, younger audience to M&S, with sales on the lines showcased in our September and October videos up 200%-300%, so we knew we didn't just want to use cut versions of our ad for our social media channels."
It also comes alongside a 60-second ad for its Christmas clothing and home offer, featuring TV presenter Holly Willoughby and model David Gandy sharing their 'must-have' items that make Christmas special.

That ad launches on 13 November on social media followed by a slot during Good Morning Britain. It comes in tandem with three 20-second edits showcasing key clothing for Christmas, such as knitwear, partywear and sleepwear, the first of which will be released on 15 November.

Both campaigns were created with Grey London.