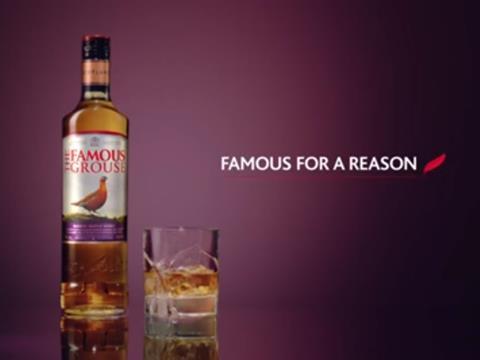 Maxxium is launching a major multi-channel campaign for the UK's second biggest spirits brand The Famous Grouse.

Titled Famous For A Reason, the drive includes a TV campaign telling the story of founder Matthew Gloag, and how his competitors reacted to the creation of the brand in 1896. The ad debuted this week and runs until 27 December.

The brand is also running a digital partnership with The Guardian, featuring stories of pioneers from the worlds of music, technology and sport - such as Ralf Baer, who built the first home video game console; and Charlie Miller, who brought the game of football to Brazil. Maxxium said the partnership would have a reach of 12 million people. The Guardian drive will be supported by further activity on YouTube, Facebook and 4 On Demand, which Maxxium said would create a further 7.3 million impressions.

In retail, Selfridges is teaming up with the brand to offer personalised labels to customers buying a bottle of Grouse at its London, Birmingham and Manchester stores. The labels are available to order online.

"The Famous for a Reason campaign aims to build on the advertising of the past, driving real meaning and sharing the authenticity of The Famous Grouse brand," said marketing controller Johna Penman. "We've also placed more of an emphasis on digital content in this new campaign, ensuring we remain relevant to today's whisky consumers. Each piece of content that we have developed and activity we have planned is designed to communicate the campaign message, reminding us that true fame is earned."

The campaign follows an overhaul of the wider Grouse brand portfolio, which included a repack of The Famous Grouse, a rebrand of The Black Grouse to The Famous Grouse Smoky Black, and the launch of new expression The Famous Grouse Mellow Gold.

Sales of The Famous Grouse are down 0.3% to £197.2m [Nielsen 52 w/e 10 October 2015].