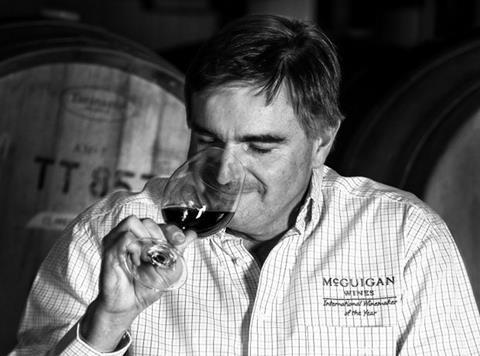 McGuigan has revealed ambitions to become the UK's third-largest wine brand as it announces a raft of activity for next year.
McGuigan, currently in fourth place in the UK off-trade behind Echo Falls, is to launch premium range Founder's Series in May. This will be a collection of three varietal wines from notable Australian regions: Coonawarra Cabernet Sauvignon, Barossa Valley Shiraz, and Adelaide Hills Chardonnay, set to retail between £8 and £10.
There will also be new marketing activity in partnership with MasterChef presenter John Torode, who first worked with the brand in 2013. An on-pack promotion running up to Easter will give away 10 holidays to Hunter Valley, New South Wales, culminating in a vineyard dinner with McGuigan and Torode.
"We believe we'll get to number three - that's our goal," said CEO Neil McGuigan. Three years after entering the top 10 for the first time, the Australian brand this year added £18.9m to its off-trade sales value to overtake fourth-placed Gallo Family Vineyards [Nielsen 52 w/e 10 October 2015]. With sales of £113.3m, it is now £35.4m behind Echo Falls - and has halved the gap between the two brands in the past year. McGuigan is worth less than half of second-placed Blossom Hill, which has current annual sales of £228.1m.
McGuigan's UK growth has been on the back of expanding distribution; it gained its first Morrisons listings in 2012, and added Asda last autumn. Last month, it launched its first UK cinema and radio campaign, Bring A McGuigan, based on the idea of McGuigan being an appropriate choice for a range of social situations.