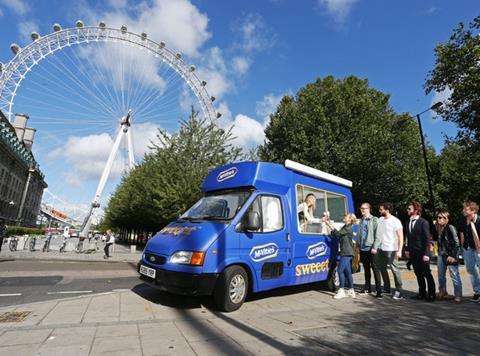 McVitie's has taken to the road in a 'Sweeet' ice cream van to hand out free ice creams inspired by its biscuits.
Six flavours are on offer: Earl Grey Rich Tea, Salted Caramel & Chocolate Hobnob, Jaffa Ice Cream Cake, Raspberry Ripple Digestive Sandwich, Rum & Fruit Shortcake and Green Tea & Ginger Nut Sorbet.
The van has been touring a series of London landmarks this week, and ice cream fans have been encouraged to tweet their whereabouts to McVitie's for a visit.
"We're always looking for more versatile ways to bring our Sweeet range of biscuits to people in new and exciting ways," said Kerry Owens, United Biscuits' acting marketing director for sweet biscuits.
The activity was created after McVitie's research found 29% of Brits said eating an ice cream was one of the things they most associated with the summer.
The ice cream recipes were:
Jaffa Ice Cream Cake – zesty Jaffa Cake ice cream and candied orange on a Genoese sponge base coated in chocolate
Raspberry Ripple Digestive Sandwich – tangy raspberry ripple ice cream sandwiched between two classic crumbly Digestive biscuits
Earl Grey Rich Tea – a twist on a true classic; Earl Grey and Rich Tea ice cream with a Rich Tea garnish
Rum & Fruit Shortcake – one for the grown-ups; rum and raisin ice cream with Fruit Shortcake crumble and a rum ripple
Salted Caramel & Chocolate Hobnob – indulgent salted caramel ice cream with Chocolate Hobnob chunks and sprinkles
Green Tea & Ginger Nut Sorbet – a spicy and refreshing green tea and ginger sorbet with Ginger Nut brittle