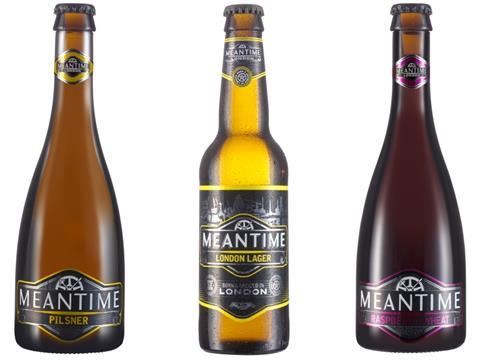 Meantime Brewery has been forced to admit its London Lager is not always brewed in the capital and sometimes contains beer made in the Netherlands.
The front of London Lager's bottle carries the slogan 'Born and brewed in London', while the back states: 'The countryside surrounding London provides the world's finest brewing ingredients: Kentish hops and East Anglian malting barley. At Meantime's state of the art microbrewery we combine the two to produce a definitive lager.'
However, the Greenwich-based company, which was acquired by SAB Miller in May, told Beer Insider that when the capacity of its own brewery struggled to meet demand, a proportion of the liquid in London Lager was brewed at the Grolsch brewery, also owned by SABMiller - but insisted it was identical to the beer made in London.
"We do not use Grolsch in our London Lager," said a spokesman for Meantime. "Like many craft brewers we have on rare occasion brewed beer to our strict specifications with other brewers to help us only during peak sales periods when we are struggling to meet demand. But this has only been required due to seasonal capacity constraints and ever increasing demand. These constraints will be alleviated somewhat by the large investments we are making at the brewery.
"The particular batch of lager in question was brewed at our partner brewery in Enschede, where they brew a wide range of beers. The small amount of liquid was brewed to the precise specification and recipe of London Lager and has the exact profile and microbiological makeup as any batch of London Lager brewed here at our brewery in Greenwich," the spokesman continued.
Meantime confirmed to The Grocer its intention was eventually for production of the beer to stay entirely in London, although it was unable to provide details of what investments it planned to make this happen.
As well as having a major presence in the capital's pubs, London Lager is listed in Sainsbury's, while Meantime's other products - including London Pale Ale, London Stout, Yakima Red and IPA - are in Tesco, Waitrose and Ocado.