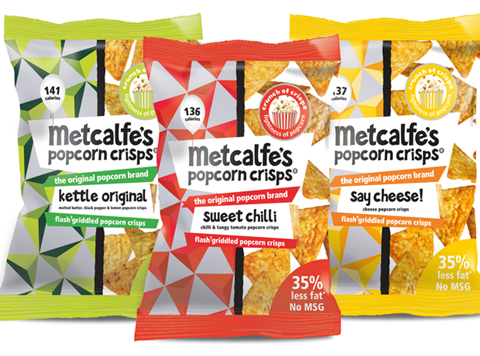 Metcalfe's Skinny is relaunching its tortilla chip-style snack Corn'ers as Popcorn Crisps, with changes to the flavours and cooking process.
The pack design of the new range is similar to its predecessor, but the three flavours on offer have been renamed: Chilli Tweet is now Sweet Chilli, Cheese Louise becomes Say Cheese, and Corn Off The Cob is now Kettle Original. Metcalfe's said the cheese variant now had a more mainstream Cheddar flavour, the sweet chilli was more intense, and the texture was now crunchier.
Popcorn Crisps go on sale from 1 September in 30g bags (rsp: £1), initially in the foodservice channel, with sharing bags due to follow in 2016.
"The Metcalfe's Skinny brand has grown enormously in the past couple of years so this is an extremely exciting time for the brand to be extending our innovative product range," said Metcalfe's Food Company MD Max Rees. "Our aim is to deliver the most innovative, best quality and tasting, light, corn-based snack products in the market."
The rebrand follows June's demerger of Metcalfe's Skinny from parent company Metcalfe's Food, which changed its name to Itsu Grocery, the name of its other brand.