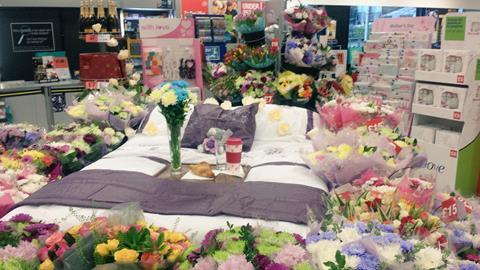 After carefully considering all the entries submitted to our #instorespot competition for Mother's Day, our judges have picked their winner: The Co-operative Store in Lampeter, submitted by Richard Boudier.
This verdict follows a steady stream of submissions on Twitter and via email over the last week, with supermarkets, convenience stores and brands pulling out the stops to deliver eye-catching displays on the shop floor.
Judge Sue McVie, shopper marketing director for Kerry Foods, said the winning entry was "a really creative display" that "built upon an insight which is at the heart of Mother's Day - and goes to show what's possible on even a small budget. The staff went above and beyond with their efforts and it certainly will have caught shoppers' attention and encouraged them to spend a little more."
Fellow judge Savvy chief exec Catherine Shuttleworth said: "Much like the entries for the last #instorespot competition (around Valentine's Day), the convenience sector appear to be really taking event-led opportunities to heart and the store colleagues are going to great lengths to make interesting displays.
"It was a shame to see so few entries demonstrating the larger supermarkets efforts. The Co-op Lampeter store made a big effort to create some theatre, inspire shoppers with ideas and make them smile – that's how to engage the customer and most importantly to get the shopper to purchase."
Our third judge, McCurrach chief exec Angus MacIver said the judges also felt M&S deserve a special mention.
"Across the numerous store pictures we received of their efforts, they all looked very professional and well executed. The Second Best Exotic Marigold Hotel cinema ticket campaign was a nice tie-in and the dine in package was no doubt a popular choice for many. They also made a special effort with sampling – a great opportunity to interact with their customers."