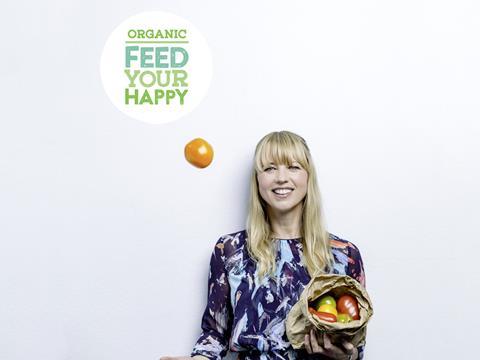 The Organic Trade Board has launched an EU-funded campaign called 'Organic. Feed Your Happy', to coincide with Organic September.

The campaign, which launches on 5 September, hopes to connect with the "emotional aspect" of buying organic, including taste, environment and animal welfare.

It comes after the OTB secured €10.4m (£9.1m) in EU funding in January to help grow the organic sector in the UK. The OTB will spend £1.2m on the Feed Your Happy campaign throughout September, which will be 80% funded by the EU grant and 20% funded by OTB members.

It will feature advertising outside supermarkets, on trains, billboards and across digital channels, as well as a series of short films featuring radio and TV presenter Sara Cox and chef Rosie Birkett.

"We're at a tipping point for organic," said Catherine Fookes, campaign director at OTB. "We have consumer demand for organic, an industry-funded campaign in 'Organic. Feed Your Happy', and an opportunity for retailers to take the lead."

"We're working closely with major supermarkets to get more visibility for organic in store, as more and more consumers say they'll buy organic food if it's available."

It follows research by the OTB that found 68% of consumers said organic food made them feel happy because 'it benefits me, it benefits the animals and it benefits the environment'.

The study, which surveyed 2,000 respondents, also found that two-thirds of consumers wanted retailers to give more space to support organic food and drink [Morar HPI July 2017].