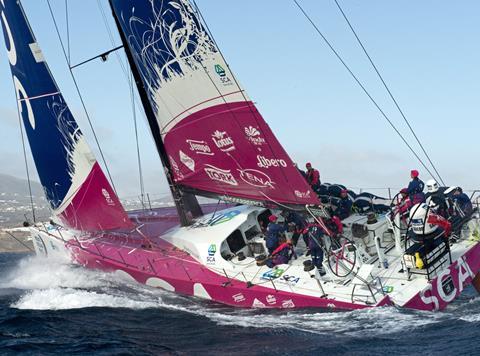 It's a long way around the world. 38,739 miles to be precise; and to race around it by boat requires high levels of skill, nerve and commitment. So there was much to admire on a sunny day in Lisbon as the seven vessels competing in the legendary Volvo Ocean Race pulled up alongside our spectator boat to wave hello before speeding off into the sunset.
They left us for dead, and not just because the relatively cumbersome spectator boat was packed with press, all looking slim and trim and full of zip and vigour. No, the reason the boats sped past us so expertly is twofold: firstly because each one was the most technically advanced offshore racing boat in the world, the Volvo Ocean 65, but also because they were crewed by professionals that have dedicated their very lives to the pursuit of excellence.
We were cheering for the boat sponsored by SCA, a Swedish company which makes brands like Velvet, Cushelle, Plenty, Tena and Bodyform. It's crewed by only the fifth all-female team to compete in the Volvo Ocean Race, and the first to do so in 12 years. And, as of this week, the most successful all-female crew of all time.
Very clearly, the fact we were all shouting encouragement spurred them on into a podium finish for this part of the race. But we shouldn't take all the credit. Even from afar the level of skill and determination on the boat was clear. And what was on show was only half the story.
"Imagine spending nine months in cramped conditions below deck with all of your work colleagues," said skipper Sam Davies during the build up to the race.
"And they are all women, too" nodded the reporter from Vogue, archly. "That's even more dangerous than the sea".
SCA has ambitions to be every bit as big as P&G, Unilever and Kimberly Clark. Its brands are now in 66% of UK households but it wants more and sponsoring the team is one of the ways it's going about it.
"SCA chose to support an all-female team because globally about 80% of the retail products SCA makes are purchased by women," said SCA UK and Ireland MD Sally Barker. "Team SCA has worked incredibly hard and we are thrilled that they are the most successful all-female team in race history. Not only because they have provided a unique global platform for building greater awareness of SCA but because they are truly flying the flag for women's empowerment."
And although it doesn't look like Team SCA will win the race overall when they speed across the finish line in Gothenburg on 27 June, that doesn't take anything away from an immense performance by the 11-strong crew.
Speaking for them, British sailor Annie Lush said: "We have been able to complete this incredible event on a level playing field with the male teams, and have been incredibly successful. It's been an incredible journey so far. And we are proud to be making a stand for the empowerment of women, everywhere."