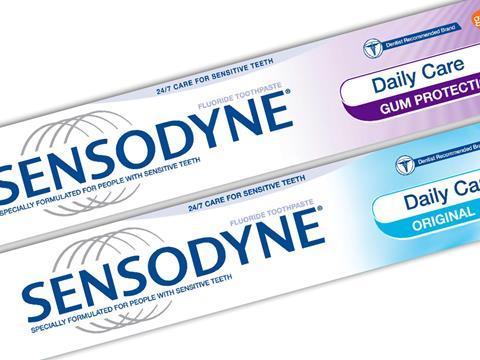 GSK is aiming to reduce shopper confusion - and respond to ongoing retailer range rationalisation - by 'simplifying' its Sensodyne range.

The number of SKUs in the sensitive teeth toothpaste range have been cut from 27 to 19, and the brand segmented into two "clearly defined" sub-brands - Advanced and Essential Care. All entry-level toothpastes will go under Essential Care, while Advanced will comprise the Repair & Protect and Complete Protection products. SKUs in the entry-level range will all carry a £3.49 rsp, and Advanced lines will be £4.49.

Only 19% of sensitive teeth sufferers used a specialist toothpaste, said GSK. Citing Nielsen data [52 w/e 3 Feb 2015], the supplier added the average price of everyday toothpaste was £1.50 versus £3.10 for Sensodyne, and that it hoped to increase basket value by encouraging shoppers to trade up to a specialist everyday toothpaste.

"It is crucial we make it as easy as possible for shoppers to find what they are looking for or they may leave without a purchase," said GSK.

The move comes as retailers are rationalising ranges across their stores in activity such as Tesco's 'Project Reset', and GSK admitted this had been a consideration when simplifying the brand.

"The decision has been a combination of what is right to aid shopper navigation in what can be a complex category, alongside an appreciation of the retailers' rationalisation projects," added a spokeswoman.

Sensodyne brand sales are up 6% in a static sensitive toothpaste category [Nielsen 52 w/e 28 February 2015].