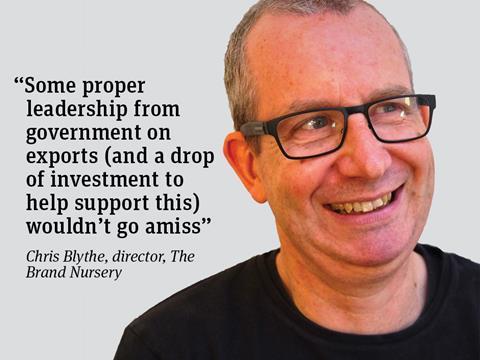 Woody Allen said that "99% of life is showing up". It's an apt lesson for businesses that are looking to develop their presence in new markets. Unfortunately, based on the evidence of last week in New York, it's not one that UK food and drinks businesses are currently taking to heart.
The Brand Nursery has been attending the Fancy Food Show in New York since 2010. It showcases thousands of new food brands and ideas from around the world. It's a great place to spot new trends and to build contacts with manufacturers, brand owners, importers, distributors and retail buyers.
With a weak pound and a succession of government ministers regularly trotting out the current party line that Brexit will offer up a world of new opportunities for Britain's exports (albeit, in some cases through thinly disguised gritted teeth) we expected to see an abundance of British food and drinks brands at this year's Show.
However, the Great Britain 'Pavilion' was a rather diminished affair for 2017 – only half the number of exhibitors we usually see and with a number having pulled out in recent months. There were some familiar British brands scattered about the other aisles (Tea Pigs, Walkers Shortbread, Twinings) and others were on display through importer stands, but there is no doubt that the British presence this year was embarrassingly slight
In most years the British Embassy alongside the DTI US office will host a drinks reception for all British exhibitors and delegates, often attracting over 100 people. This year there was no official government sponsored event – instead it fell to an enterprising California-based ex-pat from BWI Importers to organise a more modest drinks reception with the financial support of Santander
Ironically, this comes at a time when the DTI Food and Drink section in the US is expanding its team, with specialists now covering Chicago, California and Florida as well as the East Coast. Their New York office had organised a meeting with the dairy buyers of all major US retail stores during the week of the Show, so useful work is being done to help open doors
But if few people are there to take advantage of it then what good can it do? And why weren't many Brits there?
I was told that cost was an issue, with an effective price increase of 20% since last year due to that weakened pound. A reason…or an excuse? Surely if the opportunity is there and the potential rewards are both significant and increasingly necessary, given the uncertainty over our future trading relationship with Europe, then the extra budget should be justifiable to most ambitious businesses.
Or maybe it's just a reflection of the caution (and possibly fear) that many in our industry are feeling about the uncertain, unholy mess that Brexit is threatening to develop into.
Whatever the reason, some proper leadership from government (and a drop of investment to help support this) wouldn't go amiss. The presence of a suitable government minister at the 2018 Show would help to instil more confidence amongst Britain's potential food and drink exporters, and would show a degree of commitment and leadership sadly absent this year.
Chris Blythe is director at The Brand Nursery