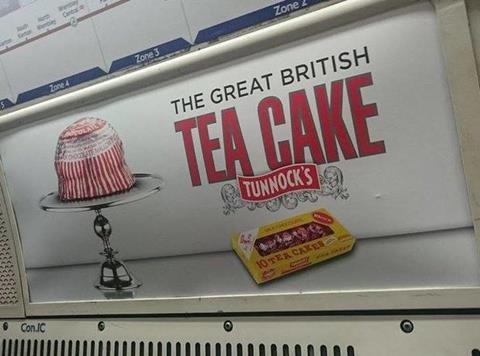 Never mind Jeremy Corbyn's shadow cabinet reshuffle: the most ill-tempered political faceoff of the week was triggered by nothing less than the removal of a picture of a lion from a piece of red and silver foil.
For a new marketing campaign in England, Scottish firm Tunnock's made two fateful decisions – first, removing the Lion Rampant, a symbol of Scotland, from the packaging of its famous teacakes South of the Border, and second, describing the snack as 'The Great British Tea Cake' in a series of adverts on the London Underground. The move has led a segment of nationalistically minded Scots to call for a boycott of the brand, using the hashtag #BoycottTunnocks to whip up support.
Now, if you're part of the large proportion of our readership located in England or Wales, there's a good chance you'll not just be surprised anyone could be so drastic, but wondering why this is much of a story at all.
Well, first of all, the move has context: calls for Tunnock's to be boycotted were first raised after the company came out in favour of staying in the UK in the lead up to 2014's independence referendum. (Tunnock's certainly wasn't the only business subject to boycotts – there's a nice roundup of some of the companies involved in this Buzzfeed article).
But more fundamentally (take it from me, as an Englishman who spent a long period of time living in Glasgow), Tunnock's Tea Cakes are more than just a tea cake – it's a triangulation point in a map of Scottish national identity. Along with Scotland's beloved national beverage Irn-Bru, Tea Cakes are often treated with a sanctity bordering on the religious.
Never mind that the packaging will only be changing outside Scotland – it's not surprising that, to some Scots, this will feel like a snub from a brand they held in an exalted place. MD Boyd Tunnock may not have helped matters when he explained the advert by saying: "We could have said Scottish, but you're then promoting Scotland. We're British."
Jacques de Cock from the London School of Marketing says Tunnock's hasn't tried to sell its brand as specifically Scottish, but has still managed to attain Scottish cult status. The incident therefore represents a faux pas. "Most companies can only dream of this spontaneous adoption of their product by a population," he says. "That in itself would be something any professional marketeer would have built up relentlessly."
My gut feeling is that most Scots – even the most ardent independence supporters – will cave in eventually and get back on the Tea Cakes. And as for the product's fortune outside its homeland: well, it's quite an appealing advert so I'm sure there will be a boost in sales to London's commuters, who will have little to no awareness of the whole debacle. There's certainly a cautionary tale, however: you might own a brand in the literal, legal sense, but you don't always own what it means.