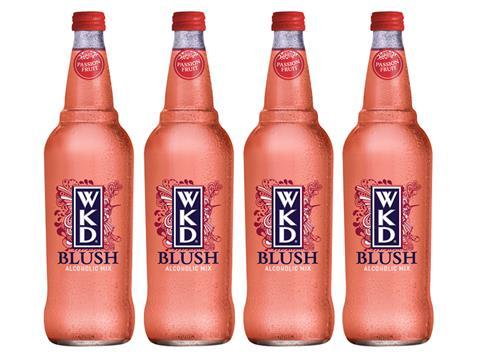 The issue of The Grocer dated 12 July 2014 was a memorable one, and not because we revealed why Sainsbury's and Waitrose were hiking banana prices (and for how long) on page 50. No, it was the bit to the right of the flap: 'Using sex to advertise a product?' it queried. 'Surely not.'
And, indeed, no. It turned out upon opening out the cover that the only sex being used to advertise anything was (The Only Way Is Es)-sex, which the deeply mischievous WKD had signed up to sponsor. Two elephants and a cymbal crashed to the floor in supermarkets across the land.
I mention this not because it validates our mag's front cover as a format that offers unique narrative opportunities, but because it illustrates what a step into the unknown WKD is taking just now. Last week, it announced its latest variant, WKD Blush, and while the content of the bottle has similarities to existing flavours – brightly coloured, fruity and aimed at young adults – it also comes across as far more feminine and refined, with floral patterns, delicate lettering and a neck label identifying the pinkish liquid as passionfruit flavour.
It's no surprise that WKD is taking a change of direction per se – the 'traditional' RTD category has been in collapse as its demographic switches to alternatives like fruit cider, and the new flavour is sensibly positioned to appeal to fans of big sellers like Kopparberg Strawberry & Lime. The gamble is in taking a brand that has always been marketed to lads with laddish humour, and making it distinctly girly.
WKD hasn't done this because women are now its priority, but because its market research has thrown up an interesting social trend – the generation that is currently coming of age is rapidly rejecting traditional gender markers. Males in the brand's target demographic were just as happy drinking WKD Blush as females. And all I can say to this is: good for them. Eighteen-year-old guys don't give two hoots if they're seen drinking something pink and flowery, because they recognise instinctively what academics and theorists of various kinds have been trying to tell us for years: gender is a performance, something we have the ability to define for ourselves.
Plenty of other brands that rely on young consumers are recognising the same social changes. Lynx – which once sold itself to men on the uncomplicated premise that it would assist in the pulling of ladies – has been getting more and more nuanced of late. The campaign for its latest range Signature, Urban and Adrenaline will focus on "real men with unique and unexpected" personal styles, while the brand will also work with organisations that "champion male confidence and individuality".
Foster's, meanwhile, retired its long-standing characters Brad and Dan in favour of a campaign depicting a rather large and hairy chap who defies cynics to become Australia's first male rugby cheerleader. Brad and Dan were a likeable and funny pair, but their laddish demeanour was becoming increasingly irrelevant to young men that rejected old-fashioned ideas of masculinity.
I'm not saying we're living through the dying days of gender-based marketing. It's reasonable to say in some ways men and women have different wants and preferences, and there's nothing wrong with angling products to cater to that. But young people who have grown up with the internet have wised up to the ways gender identities are shaped, and they won't give brands such an easy ride in the future. As usual, weak brands should consider this a threat – and strong ones an opportunity.