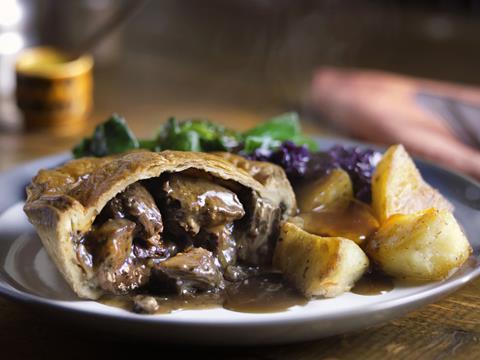 M&S is bringing its Dine In promotion back for Christmas, with the offer due to return on 5 December.

It comes a week after the upmarket retailer said it was looking to remove "complex and confusing" promotions, including Dine In.

The first of the new options comes in the classic 'two dine in for £10' format. It allows customers to choose from a selection of mains, sides or desserts and a bottle of wine or a non-alcoholic alternative for £10.

One of the main dishes available is M&S's Best Ever British beef steak pie, which sold 20,000 SKUs in just two days when it was launched on 7 November. M&S said its mutlibuys are planned in advance and the pie was due to be included even before it sold so well.

It has also previously included its Best Ever burger in the multibuy offer.
Other main dishes include meatloaf, veggie kievs, gastropub fish pie, barbecue pork ribs and slow cooked duck. Side and dessert items include colcannon mash, supergreen veg, chunky chips, apple tart, profiterole stack and chocolate peanut butter tart.

The second promotion is designed to replicate an Indian takeaway, and shoppers can select two mains and two side dishes for £10. Mains include: chicken dansak, king prawn makhani, limited edition Goan fish curry, lamb rogan josh and mixed vegetable masala; and sides options include tarka dahl, basmati rice, sweet potato & onion bhajis and garlic & coriander naans.

The Indian takeaway offer runs until 20 November, and the meal deal ends on 27 November 2018.

An M&S spokesman said variations of £10 multibuys such as these would "run between the monthly Dine In deal," and it was hoped the promotions would "allow customers to explore the delicious new dishes that M&S has to offer".

They come as M&S looks to refresh its set-price multibuy formats. CEO Steve Rowe told The Grocer last week that Dine In had "run its course" in its current form, but said M&S would always have a deal of some sort for customers.

M&S came under fire in July when MD of food Stuart Machin raised the price of decade-old Dine In from £10 to £12 and added prosecco as a drink option.