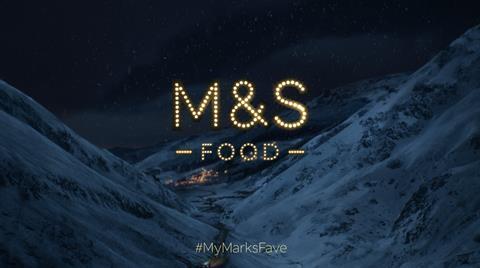 M&S has formed a new in-house marketing communications team.
The people changes are designed to give the retailer a more hands-on approach to its creative and advertising projects.
The new team will include Rich Robinson, former creative director of ad agency Grey London, as head of creative and Rachel Amess as film production lead.
The core team of six will now handle all marketing-based projects in house to enable M&S to work directly with broadcasters, media owners and production companies to develop its marketing projects.
Grey London has worked with M&S on several creative assignments, including its My Marks Fave campaign in 2018 and This is M&S Christmas Food in 2020. The ad agency has led the retailer's creative account and had control of its advertising and digital strategy since 2016.
The shake-up means the retailer's retainer contract with Grey London will come to an end in April.
Robinson's most recent role was as Grey London's creative director and Amess worked for the agency on a freelance basis as a senior producer for just over a year from October 2018. The two worked on several projects for M&S Food together.
The new recruits will be led by M&S's head of brand communications Robbie Black, who reports to marketing director Sharry Cramond.
"By establishing a core in-house team, M&S Food will adopt a more agile approach," said an M&S spokeswoman. "The new model will also provide the M&S Food marketing team with the flexibility to work with a wider range of specialist creative agencies and individuals required for specific project needs."
Cramond said: "In recent years, we've transformed the way we engage our customers and talk to them about the exceptional quality and incredible value of M&S food. Building our in-house talent further will help us move with pace and agility – to build brilliant direct partnerships, as well as giving us the flexibility to collaborate with real specialists and creative minds."
This follows M&S creating an in-house team designed to lead food innovation in January. The Innovation Hub is made up of six existing employees and three new recruits.
It is charged with addressing the major changes affecting the retail sector by utilising emerging food trends, consumer insight and technology.
M&S has also named Alastair Brass its new retail operations director.
It has hired the former British Gas customer contact director to oversee every aspect of its retail operations function, including customer and central operations, clothing and home operations, food and UK franchise operations and overall retail efficiency.
He will join M&S in April and report to its retail operations and property director Sacha Berendji who has worked for the company for 26 years.
Brass was formerly transformation director at Centrica for around 18 months after spending a year as transformation change director at Dixons Carphone, and was head of commercial development at Dixons Retail.
M&S said he had been hired to hold responsibility for helping it build a store estate that is "fit for the future, with industry-leading retail operations and empowered colleagues".
An M&S spokeswoman told The Grocer: "Alastair will utilise the wealth of experience in central operations, customer service and transformation he's acquired during his time at Centrica, Dixons Carphone, Capita and Thomas Cook, as he helps to drive forward the M&S transformation and develop industry-leading operations."
Brass added: "M&S is a much-loved brand and has built its reputation on outstanding customer service. I'm incredibly excited to become part of the leadership team driving its transformation and help deliver a retail experience that is fit for future, supported by industry-leading operations."