Marks & Spencer is to tempt the "increasingly exotic" tastebuds of British consumers with its new 'Only M&S ' ad campaign, launching tomorrow (2 September).
A series of ads dubbed 'Adventures In' will play up the new food lines offered by the retailer. The first 60" ad on 2 September will be supported by a series of 20" ads, highlighting new products within the M&S range, such as Thai Chicken Penang, Japanese Gyoza and Mexican Steak Burritos, part of a new range of Mexican ready meals.
Another highlighted product is the store's first runny-yolk Scotch egg.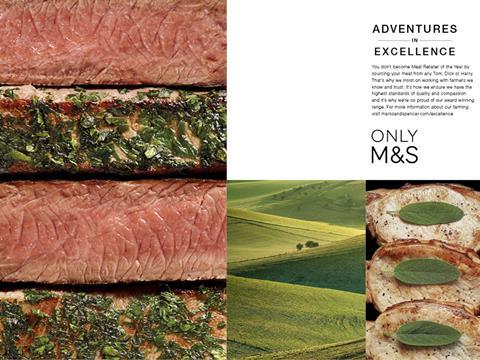 The new campaign breaks exactly 10 years after M&S' famous 'Not just any' adverts, and the retailer said today its new push was "aiming to once again raise the bar in food advertising". It promised "never been seen filming techniques to appeal to the latest generation of food lovers".
"In today's competitive market, this is a campaign only M&S could create," said Steve Rowe, executive director of food at M&S. "It captures the unique place the brand occupies by championing the stories behind our food - from first-to-market innovative products, award-winning quality, to our exceptional sourcing standards."
Other food products to feature in the new campaign include pulled pork , chilli verde with coriander rice, and black bean and chipotle tacos. It also focuses on a collection of high-end cuts from the butcher's counter, including steaks aged in salt-brick chambers, and Presa pork steaks from Gloucester Old Spots pigs.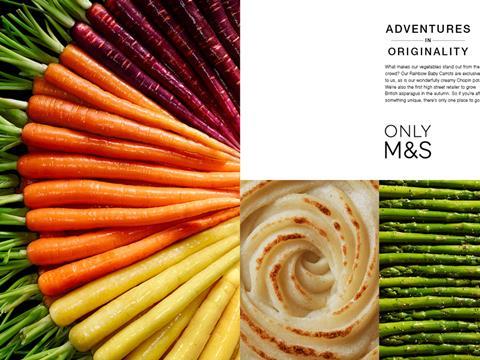 "Over the last decade, consumers' culinary tastes have become more adventurous and Britain's love affair with food has really ignited. Our new campaign reflects this shift and uses a different language to the price-focused supermarkets ," said Patrick Bousquet-Chavanne, executive director of marketing and international at M&S.
"[We are] showcasing the sensual and surprising aspects of food in a modern, stylish and precision format."
The 'Only M&S' strapline will run across both food and general merchandise, as the retailer looks to bring the two arms of its operation closer together. General merchandise and clothing sales have struggled in recent years while the food business has gone from strength to strength.
Like-for-like food sales climbed 1.7% in the first quarter to 28 June, but GM like-for-likes fell by 1.5% in the same period.
"This autumn/winter campaign is one that unites for the very first time for the entire season our food and GM approach to consumers across all touchpoints under the 'Only M&S' banner," Bousquet-Chavanne told Marketing Week .