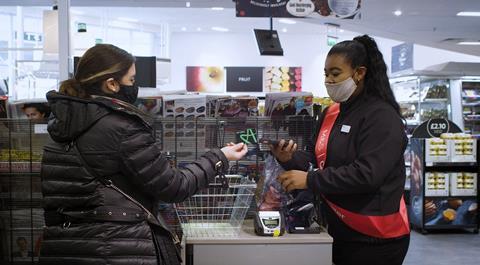 M&S has introduced on-the-spot payments at over 200 stores to help reduce queues over the Christmas period.
Pay With Me allows M&S colleagues to choose customers waiting in line to pay for "a few items" to instantly process their transactions via a handheld device from tech company Honeywell.
The technology can be used in both M&S Food Halls and clothing departments, and payments can be made through Apple Pay, chip and pin or contactless transactions of up to the £45 cap.
Shoppers receive a receipt just as they would with a manned or self-service till, and can earn and spend Sparks loyalty points through the initiative.
It is also designed to free up space quickly to allow as many customers as possible to do their shopping, the retailer said.
M&S has rolled out the technology after trialling it at seven branches in November, and has claimed a first among UK retailers in doing so.
Pay With Me comes as part of its push to become more omnichannel and offer customers contactless shopping options through the coronavirus crisis.
It is designed to work alongside M&S's other contactless payment options, such as its Mobile Pay Go smartphone app. This service, which is offered at all 573 of its UK branches, allows customers to pay for items up to the value of £45 through the app rather than visiting a checkout. Users scan the barcodes of products they wish to purchase before paying through the app with the card they have saved on it.
M&S also offers a contactless click & collect option to nine stores, has installed 1,000 additional self-service tills at 69 of its "higher footfall" stores, and introduced a reserved shopping slot scheme, Sparks Book and Shop. This is available at all 566 standalone Food Halls, and over 350,000 slots have been booked by customers since the scheme was launched in November.
M&S is among several retailers to extend their festive opening hours to further aid social distancing. It is keeping around two-thirds of its stores open until midnight during Christmas week.
"Throughout the year our teams have done a fantastic job of adapting quickly to serve our customers through challenging and changing circumstances," said Helen Milford, stores director at M&S.
"In preparation for Christmas, we have put in place extensive measures to make shopping quicker, easier and safer for everyone – from our longest-ever opening hours through to digital queue-busting solutions such as our new Pay With Me, now in over 200 stores. In these final few days, we're focused on delivering for our customers to help them make the most of their Christmas, however they might be celebrating."