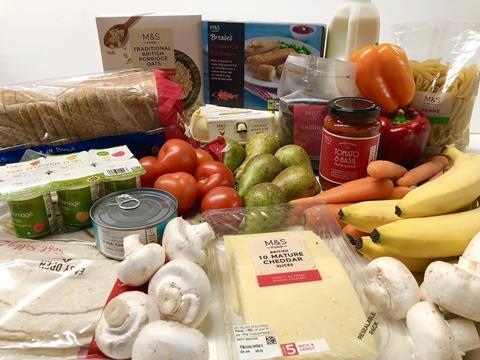 M&S is set to bolster the government's free school meal vouchers from £15 to £20 from Monday.
Its move follows a week of fraught talks between the government and food poverty campaigners over its packages replacing free school meals.
The additional funds are designed to feed two children rather than the one the vouchers are catered towards, as well as to cover both breakfast and lunch.
Customers with free school meal vouchers in England can exchange their ecode for an M&S egift card via the link provided alongside their ecode. The voucher will then automatically be loaded with an additional £5 within a few hours.
M&S's senior nutritionist Laura Street has developed a downloadable breakfast and lunch planner made up of mealtime inspiration for 10 meals for two children with minimal preparation required. It features classic dishes such as porridge with fruit, eggs and soldiers, flour tortilla pizzas with salad and tomato pasta, as well as tips to avoid food waste.
"Learning via Zoom will be challenging for many children, but we know eating regular, balanced meals throughout the day can really help aid concentration," Street said. "Parents are keeping enough plates spinning right now, so we've worked up an example meal planner and shopping list to offer some inspiration and help to keep meals varied and nutritionally balanced throughout the week. The meal planner shows how to feed two children five breakfasts and five lunches for £20. And, as well as covering the cost of a daily breakfast, the extra £5 has allowed us to add additional fruit and vegetables to the planner too."
Stuart Machin, MD of M&S Food, added: "M&S always puts customers at the heart of what we do and we want to step up and do our bit to help families during this difficult time."
The retailer's move has been backed by food poverty campaigner and footballer Marcus Rashford MBE. He said: "As a child, I relied on breakfast clubs to kick-start my day the right way. Breakfast is so important to guarantee children have the ability to engage in learning, and to flourish within the education system, to go on to succeed at whatever they choose to do in life. Education is the most effective means of breaking cycles of hardship in some respects, but education is only achievable with strong engagement and concentration. Unfortunately for the majority, hunger does not allow that.
"I thank M&S for taking the strong initiative to support the uplift of the vouchers to cover an essential meal of the day and I'm confident we will see a great response from those most vulnerable."
Rashford and fellow campaigners held talks with the government this week after images of its food packages designed to replace free school meals flooded social media. The boxes, provided by Chartwells, were said to be worth £30, and featured items such as single cheese slices, two carrots and a small bag of pasta.
Social media users were quick to tot up their value to be around £5.
Rashford then confirmed in a series of tweets the government had backtracked on its partnership with Chartwells and agreed to give parents vouchers rather than the food parcels. The government later announced, however, that it would not be extending the voucher scheme during February half term.
Chartwells has since apologised and promised it would refund schools where food parcels had not met its "usual high standards". It has also vowed to add free breakfast to its food parcels for children eligible for free school meals.