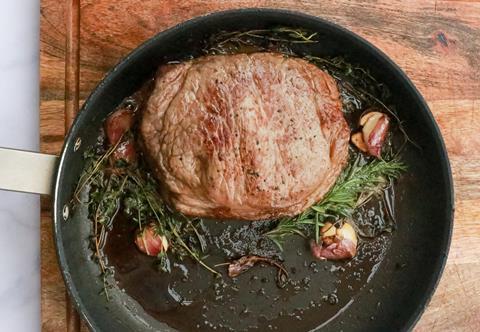 It's not been an easy few years for UK food and agribusinesses. Brexit's impact on trade, labour, and competitiveness has been felt acutely. Covid-19 and its long-term effects add an extra layer of risk to businesses already navigating a tough environment.
Our latest Global Animal Protein Outlook forecasts another volatile year for the sector, with uneven patterns of demand and inflationary pressures across animal feed, labour, energy, and freight squeezing margins and driving up prices.
But, for resilient UK animal protein businesses that have weathered Covid-19 and Brexit, the coming year will also bring chances to drive long-term sustainable growth.
The opportunities of 2022
First, let's look at the opportunities. While global beef production is down marginally, reflecting changes in herd cycles in major producing regions, demand remains strong and shows no signs of subsiding. This will strengthen demand for British cattle and support prices over the next year.
We also expect beef trade between the EU and the UK to recover in 2021, despite Brexit-induced administrative burdens and transactional costs preventing farmers from reaping the full benefits of EU demand.
Then there's poultry, which had a mixed year in 2021. High levels of demand outstripped declining production capabilities as a result of outbreaks of avian influenza, high feed costs and labour issues.
Yet UK farmers have shown agility and leadership in their response, ramping up production to help meet global demand. We now forecast production will increase by 1.5%, above the 1% average we expect for the EU. Ongoing high levels of demand in the UK mean much of this poultry will be consumed domestically, bypassing the administrative impacts of exporting.
The risks ahead
But the UK animal protein market isn't without its risks. Pork prices were low globally last year due to oversupply. Combined with high feed prices, margins for UK pork farmers were tight. With some extra pigs being carried over into 2022, and the ongoing shift to 'buy British' pork in retail, we expect production to rise next year.
The Chinese pork market's ongoing recovery from African swine fever will also put additional pressure on UK pork exports. Greater availability of domestic pork supply in China will reduce its dependence on imports from other countries, including the UK, while driving down already low pork prices globally. UK producers will need to show leadership, resilience and nimbleness to survive these challenging market conditions.
A more sustainable future
Looking ahead, opportunities also exist outside animal protein producers' more traditional revenue streams. The past year has been shaped by an even greater focus on sustainability, which is increasingly shaping consumer behaviour, as well as impacting the way food businesses operate.
We expect the strong growth of alternative proteins to continue in 2022, with greater economies of scale in production and a wider choice hitting supermarket shelves and restaurant kitchens. These will be both driven by, and in response to, record levels of investment in the market.
Animal protein companies will also be aware of the challenge of beating alternative proteins on price, which has long been a sticking point for smaller challengers in the meat-free space.
Inflationary pressures and rising labour costs will be felt widely across the animal protein supply chain. In the UK, where the labour market is particularly competitive, we could see double-digit wage increases, in turn pushing the costs of production up and squeezing margins.
Alternative proteins offer an opportunity here, as they typically go through a more automated manufacturing process, meaning they are less vulnerable to labour costs.
Growth in a tough global market isn't easy. Brexit's impact on trade makes it even more challenging for UK producers. But by showing the leadership needed to view the challenges ahead as potential opportunities, animal protein producers will still be able to make the most of a rapidly evolving global market.