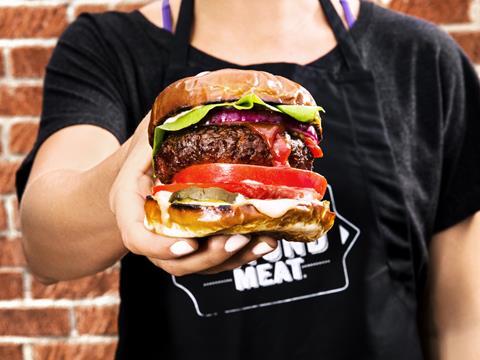 Alternative proteins should be a "wake-up" call for the meat sector, according to a new report published by trade body Beef + Lamb New Zealand, which warns plant-based burgers and lab-grown meat could pose a major threat to red meat sales in the next five years.

The report, which is based on interviews with experts, market analysis and consumer research, comes as Iceland this week revealed plans to launch a "meat-replicating vegan burger", while Josh Tetrick, the CEO of Californian 'clean meat' company Just, claimed lab burgers could be served in Asia and the US before the end of 2018.

So what insights does it give us into alternative proteins and the threat they may pose to meat?

There are seven 'forces of disruption' supporting the alternative protein movement

Broadly speaking, three main methods of producing alternative protein have emerged: Synthesised meat produced from plant-based proteins; cultured meat produced using stem cell technology in a lab; and novel alternatives - such as insects and algae, which are dried and processed to create a high-protein ingredient.

At the moment, none of these pose a genuine threat to meat. But that could change, the report says, because there are several forces driving their development and acceptance. When these forces converge, the meat industry had better watch out.

1) Global and government institutions have put the impact of meat consumption on the agenda. Progress will inevitably be slow, but the conversation has begun and some governments are beginning to take action to reduce meat consumption. Just look at Sweden's proposed meat tax. Eventually, the actions of individual countries will have an impact on global meat consumption, the report predicts.

2) Growing support for plant-based protein diet from the medical industry. There has been an increase in studies from the international medical community highlighting the supposed risks of red meat and promoting the benefits of plant-based proteins, notes the report. As a result, healthcare providers are promoting eating less red meat and the mainstream health and wellness industry is now actively promoting plant-based diets.

3) Flow of capital into alternative protein isn't slowing. In a recent speech on 'moonshot' technologies, Google's Eric Schmidt cited cultured meat as 2017's top tech trend, ahead of 3D printing and self-driving cars, says the report, which claims investment in alternative protein is closely following the trajectory of major successful innovations such as Snapchat. Investors in the space include Google Ventures, Hong Kong billionaire Li Ka-shing's Horizons Ventures, Bill Gates and most recently Richard Branson. Even some big food companies, like US meat giant Tyson Foods, are investing in alternative protein as they strive to stay relevant.

4) The technology to produce a consumer-ready alternative protein burger is here and is pushing for commercial scale. The main approaches to alternative protein have made "substantial leaps" in technological development as well as commercial and consumer acceptance, the report notes. Synthesised food products are already on sale and the cost of lab-grown meat has dropped 30,000 times in under four years. What's more, the alternative protein landscape is expected to diversify further, with more options emerging in the coming decades.

5) A new set of influencers are creating a new cultural narrative around meat. Professional athletes, food bloggers and celebrities like Ryan Gosling, Russell Brand, Samuel L Jackson and Liam Hemsworth are promoting vegan and vegetarian diets, the report points out. Meanwhile, anti-meat sentiment has reached mainstream pop culture, with Netflix and the BBC getting in on the action with recent films.

6) Millennials' eating patterns are reshaping the food industry. Millennials have a more holistic view of health and sustainability, which is an increasingly important factor in purchasing decisions, according to the report. It cites a New York Times article that claimed an estimated 12% of millennials say they are "faithful vegetarians", as compared with 4% of Gen-X'ers and about 1% of baby boomers.

7) The market is responding to consumer demand for new products and services. Meat substitute product launches accounted for almost 14% of all new "meat" launches tracked in West Europe by Innova Market Insights in Q3 2015, notes the report, compared with 6.3% tracked in Q3 2011.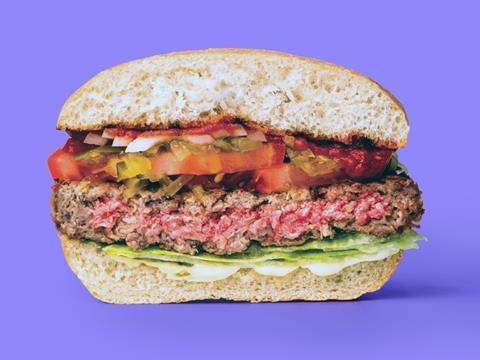 Alternative proteins could hit plates sooner than we think

Plant-based burgers are already available. From Beyond Burger to Iceland's new patties, shoppers can already find these alternatives in restaurants and supermarkets. At the moment they still have relatively limited distribution, but the report predicts they will reach large-scale production within three to five years, alongside mince produced using the same method, which is currently at "proof of concept" stage.

Additional SKUs, such as muscle from plant-based protein, are also currently in early R&D, but it's likely to be a minimum of five years before proof of concept and a further five years before they reach large-scale production, the report notes.

Lab-grown meat will take a bit longer, and while it might be available on a small scale in the next three to five years, it will likely be five to 10 years before large-scale distribution is possible

But there are still some barriers to acceptance by consumers…

Consumers are "intrigued" by plant-based meat substitutes and tend to view them as a natural, healthy and sustainable alternative to red meat, the report reveals, but suspicion around whether they can provide a "genuine like-for-like" experience has stopped people switching en masse yet.

Cultured meat, meanwhile, suffers from its association with genetically modified food technology. Lots of people don't fancy eating food produced in a lab, the report suggests, and are concerned about the potential (and unknown) long-term health impacts.

Consumers are still see novel proteins as more of a "curiosity" than a genuine alternative, and it could be "challenging" to convince many shoppers to eat foods containing insect powders.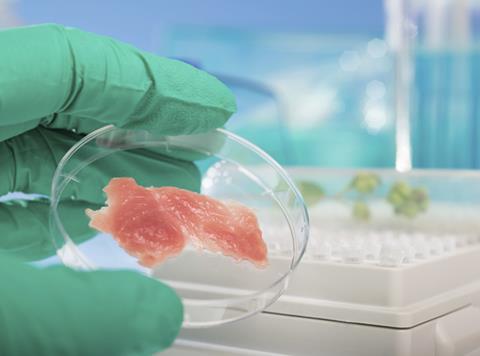 The rise of alternative proteins might be short-lived

Once upon a time, margarine was seen as a healthier alternative to butter, but that has all changed now. And soya milk is facing a backlash as consumer awareness over health grows. So there is a possibility consumers could also eventually turn against alternative proteins, the report suggests.

What's more, some of the methods used to produce alternative proteins could face lengthy approval processes from regulators. And governments might be slow to increase regulation on the meat industry, or never impose such policies.

With this in mind, the report maps out four potential future scenarios for alternative proteins, each of which would require different actions from meat companies.

#1 Red meat is pushed to the side of the plate - Consumers shift away from meat to alternative proteins, which have become more widely available and affordable. Red meat production is also hit by increased regulation, which limits production.

#2 Red meat becomes a specialty choice - Consumers still want to eat red meat, but the market contracts because regulations on meat increase and alternative proteins become more widely available and affordable.

#3 Red meat is a reluctant choice - Consumers want to stop eating red meat but alternative products aren't yet commercially viable. Red meat is still widely available because governments haven't regulated it.

#4 Red meat is the everyday choice - Consumers reject alternative sources of protein in favour of real red meat, which is still widely available as governments haven't regulated it.

But meat industry can't afford to sit around and wait

In reality, the future is likely to be somewhere in the middle of the four scenarios, says the report, which encourages meat companies to take the following steps to start preparing for whatever might happen in the future:

1. DIVERSIFY portfolio beyond red meat and protect current volume (share)

2. INNOVATE beyond red meat using funding from short-term revenue growth

3. PREMIUMISE by building tiers of value and investing in product development

4. EXPAND and grow share in red meat via differentiation and speed to market