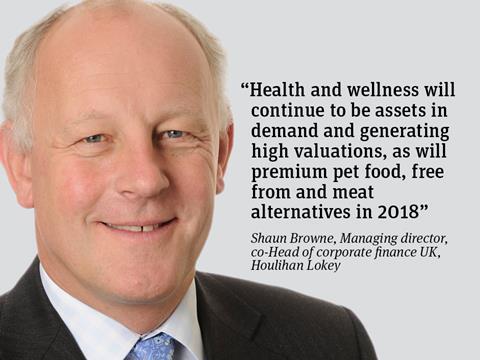 2017 has been an interesting year for M&A in the UK food sector.
The underlying performance of many UK food manufacturers has been mixed, with many companies not achieving the ambitious targets they set for themselves at the beginning of the year. Despite this, the quantum of M&A activity in the sector has been broadly consistent with 2016.
Valuation multiples are starting to stabilise after many years of growth. Geographically, we have seen renewed interest from US buyers who have dramatically increased their activity. Two of the biggest UK food deals in 2017 have seen Moy Park and Weetabix acquired by Pilgrim's and Post respectively.
We also saw McCormick acquire Reckitt Benckiser's food business for £3.2bn. This follows last year's acquisitions of Tyrrells and Metcalfe's Skinny by Amplify and Snyder's-Lance respectively [with Hershey buying Amplify for $1.6bn and Campbell Soup paying $4.9bn for Snyder's-Lancet his week].
Health, wellness and "better for you" continues to be a popular space. Whilst many of the transactions have been small, their valuations have been stellar, including deals done by the likes of Grenade and Little Dish.
Overseas buyers continue to be prevalent. In addition to the US buyers, many other UK food companies (including Bart, Butterkist, MyFresh, Whitworths, Cott's UK bottling operations, Westbridge, John Ross and Yorkshire Provender to name a few) were sold to non-UK counter-parties.
Private equity continues to be active. They have funds that need to be invested and bank debt remains cheap and plentiful. Addo, Karro, Promise and Grenade have all found new private equity owners in 2017, whilst Innis & Gunn, Brewdog, Armitage Pet Care and Little Dish now have private equity investors as shareholders.
What does 2018 hold?
We expect continued interest in UK food assets from overseas (especially US) buyers. We also expect private equity interest in the sector to remain strong.
Health and better for you will continue to be assets in demand and generating high valuations, as will premium pet food, free from and meat alternatives.
Brexit does not yet appear to be causing either a slowdown in activity or a decline in valuations. We are witnessing mixed reactions from overseas companies. Some say they would not consider buying a business in UK until there is certainty on tariffs, exchange rates, etc. Others tell us they need to buy in UK to be sure that they can continue to service UK customers post Brexit.
Shaun Browne
Managing director, co-fead of corporate finance UK, Houlihan Lokey