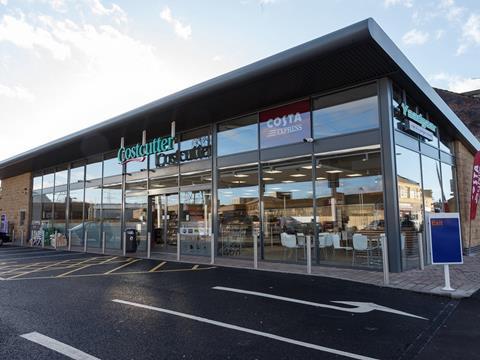 Top story
The Co-op Group has made an audacious bid to buy convenience retailer Costcutter for around £15m, according to weekend reports.
Sky News reported that the Co-op approached, Bibby Line Group, owner of Costcutter with a £15m offer several weeks ago.
A takeover by the Co-op, already the fifth-largest grocery retailer, would create a business with over 4,000 employees across the UK.
The offer, which was rejected, would have formalised the relationship between the two brands who signed a wholesale agreement in November following the collapse of Palmer & Harvey.
Under the current partnership Costcutter is supplied exclusively by the Co-op, for which it pays around £500m annually.
The proposed offer would also see brands including Mace come under the Co-op's network, currently over 2,500 sites.
Bibby Line rejected the deal but is understood to be open to more talks. One source told Sky: "The talks are not live, but could be again very soon."
It is not clear at this stage if any other parties are interested in the independent grocery retailer, but disclosure of the approach could pave the way for more offers.
The move comes just months after the Co-op's takeover deal with Nisa was confirmed in May following a takeover battle with Sainsbury's over the retailer.
The approach is the latest bid for consolidation in the sector following Sainsbury's proposed merger with Asda and Tesco's recently announced buying partnership with Carrefour.
Any tie-up between Costcutter and the Co-op would be subject to significant scrutiny by the competition watchdog, the CMA, following recent concerns over price squeezes on suppliers by consolidating retailers.
Costcutter has lost more than 400 stores in the past year as it struggled with availability prior to and following the collapse of Palmer & Harvey.
The symbol group confirmed to The Grocer last week that as of the end of 2017 it had 1,776 stores, compared with 2,200 at the end of 2016.
Morning update
The future is looking even more uncertain for Premier Foods (PFD) boss Gavin Darby following reports this weekend that two more of the company's largest shareholders back Oasis management's campaign to oust him.
Wall Street hedge fund Paulson, which owns a 6.2% stake, has revealed it agrees with second-largest shareholder Oasis' stance that Darby has failed to deliver on promises to improve shareholder value.
The group told the Sunday Telegraph that Darby failed to deliver after knocking back a takeover bid from US spice maker McCormick in 2016 and selling a large stake to Japan's Nissin instead.
"Unfortunately, the board rejected an offer from McCormick at 65p claiming Gavin could create more shareholder value. Today, the stock languishes at 40p while the management and the board keep their comfortable jobs," Orkun Kilic, a portfolio manager at Paulson, said.
The Mr Kipling and Angel Delight manufacturer "desperately needs new management", the hedge fund manager told the newspaper.
Oasis Management began its aggressive campaign to oust Darby last month, ahead of the group's AGM next week.
It has described his leadership of the company as "five years of failure", and said that the company has been in a "zombie-like state" as it has steadily worked to reduce debts.
It is also understood that another top-ten shareholder will oppose Darby's re-election.
"He failed to engage with shareholders over the offer and instead agreed a deal with Nissin that benefited one shareholder but penalised the rest. He then put out targets which have not been met," it said.
Oasis has called on Premier to offload the strongly-performing Batchelors soup and noodle brand to finance debt-reduction.
Despite growing dissatisfaction the company's board has repeatedly thrown its weight behind the chief executive, and advisory groups ISS and Glass Lewis have both recommended Darby's re-election.
The FTSE 100 has started positively, moving up 0.5% to 7,656pts, as the European markets have taken the growing trade war between the US and China in their stride.
Top performers in early trading include Treatt (TET), up 2.2% to 444.7p, Just Eat (JE.), up 1.9% to 836.2p, and Hilton Food Group (HFG), up 1.7% to 966p.
The early fallers included Glanbia (GLB), down 2.6% to 14.6p, McBride (MCB), down 0.9% to 128.3p, and Tate & Lyle (TATE), down 0.5% to 662p.
This week in the City
After a relative quiet morning to open the week, Tuesday kicks off with Ocado Group's half year results announcement.
It has been an impressive half year for the online retailer on the markets, breaking into the FTSE 100 on the back of a number of partnerships, including with American giant Kroger.
Marks & Spencer (MKS) was due to release a first quarter trading update before its AGM on Tuesday, but told analysts on Friday it would not issue any update to the market until its interim results in November because it wants to take a "long-term view" of the business.
On Tuesday, PepsiCo (PEP) will announce its first half results. In the first quarter soft drinks sales lost their fizz but were boosted by strong performance in snack categories.
On Wednesday, there are trading announcements from upmarket chocolate retailer Hotel Chocolat (HOTC) and pub group J.D. Wetherspoons.
Sainsbury's (SBRY) will also be holdings its AGM on Wednesday, following its slightly better than expected results announcement last week.
On Thursday, Costco will be issuing its June 2018 results, hoping to continue from its quarterly announcement last month where it beat analyst predictions.