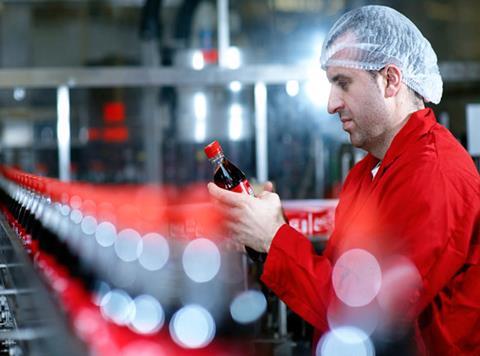 Top story
Coca-Cola HBC (CCH) has confirmed the completion of the acquisition of Bambi, Serbia's leading confectionery brand.
The soft drinks company said the acquisition added "market-leading, iconic brands in a relevant, adjacent category", creating opportunities for revenue synergies, complementary innovation and cost efficiencies.
The Bambi business also brought with it a strong distribution network, including chilled distribution, in strategically important channels such as traditional retail and the HoReCa (Hotels, restaurants and cafes) sector of the foodservice industry, it said.
Zoran Bogdanovic, Coca-Cola HBC chief executive, said: "I would like to welcome the Bambi team to the Coca-Cola HBC family. We have exciting times ahead as together we look to create value for our customers and ourselves by strengthening our presence in key consumption occasions, such as the start of the day, on the go and at home snacking and refreshment."
Morning update
Whitbread (WTB) has completed the first phase of returning proceeds to shareholders from the sale of Costa to Coca-Cola, the company said in its first quarter trading update.
It intends to return up to £2.5bn unless more value-creating opportunities arise and subject to prevailing market conditions, it said.
It has returned £482m so far to shareholders through a share buyback programme, which ended on 10 May.
Whitbread intends to pursue a tender offer to repurchase up to a further £2bn of shares, subject to shareholder approval for the second phase.
The board said it would consider a possible third phase to return any remaining surplus cash if less than £2bn was returned through the tender offer.
Troubled international retail group and Poundland owner Steinhoff has cut its annual losses to €1.2bn in its delayed accounts fro the year ended September 2018 compared to a loss €4bn in the previous financial year driven by huge writedowns.
Revenues rose to €12.8bn from €12.5bn, while pre-tax losses on continuing operations fell to €674m from €747m.
However, the group warned its 2019 earnings would be hit by further disposals as it recovers from accounting fraud, a weakening global economy and continued uncertainty around its own financial situation.
Leading Russian food retailer X5 Retail Group has formed a partnership with subsidiary OMNI Perekrestok Online and Santens Service Group to develop a pharmaceutical marketplace based on the Perekrestok.ru online store.
X5 had 14,779 company-operated stores, including 13,917 Pyaterochka "proximity" stores, 771 Perekrestok supermarkets and 91 Karusel hypermarkets as of the end of March.
On the markets this morning, the FTSE 100 rose 0.05% in early trading to 7,447.8pts.
Early risers include Majestic Wine (WINE), which managed to claw back significantly more than it lost on Tuesday – up 4.5% to 280p.
PureCircle (PURE) climbed 2.5% to 263.5p, Stock Spirits Group (STCK), 2.2% to 231p and PayPoint, 1.3% to 1,096p.
Tesco (TSCO) has so far failed to make further marked gains following a fillip after yesterday's Capital Markets Day, rising 0.3% to 236.2p in early trading this morning
Fallers so far today include Just Eat (JE), down 2.1% at 624p, PZ Cussons (PZC), down 1.8% at 214p, British American Tobacco (BATS), off 1.2% at 2,825.5p and William Morrison Supermarkets (MRW), slipped 0.6% to 198.2p.
Yesterday in the City
The FTSE 100 closed up 1.2% at 7.443pts.
The big story of the day was Tesco's (TSCO) Capital Markets Day at its head office in Welwyn Garden City, Hertfordshire, where it indicated an opportunity for a Tesco Finest store working on 7% operating profit.
It showed investors and analysts an illustration of a Finest branded store in one of the presentations by group chief operations officer Tony Hoggett.
Tesco also said there were further cost reduction and mix opportunities that allowed it to offset inflation, improve its customer offer and/or increase margin.
It said the group had the systems and processes that enabled it to enhance cash growth ahead of profit.
The retailer revealed plans for robotic deliveries and urban fulfilment centres.
FTSE 100 fallers included Majestic Wine (WINE), off 2.6% at 268p, Imperial Brands (IMB), down 2.5% at 1,903p, Finsbury Food Group (FIF), fell 2.1% to 69.5p and McBride (MCB) closed down 1.5% at 81.80.
Stocks on the up included DS Smith (SMDS), up 4% at 345.2p, Tesco (TSCO) put on 3.7% at 235.5p after its Capital Markets Day, PZ Cussons (PZC), rose 3.3% to 218p, Sainsbury's climbed 2.5% to 198.6p and Marks and Spencer Group (MKS) closed up 1.6% at 222.2p.