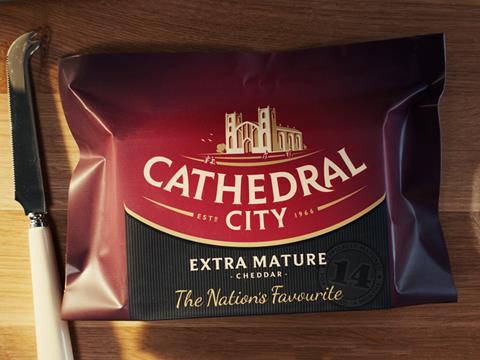 Top story
Canadian diary giant Saputo has agreed a £975m deal to buy Cathedral City manufacturer Dairy Crest (DCG).
The board of Dairy Crest, which also owns the Clover and Country Life butter and spread brands, has unanimously recommended that shareholders accept the offer.
The deal price of 620p in cash for each Dairy Crest share by Saputo's unit Saputo Dairy UK represents a premium of about 11.7% to the London-listed company's close of 555p on Thursday.
Dairy Crest, which employs around 1,100 people across seven UK sites, saw revenues increase 10% to £456.8m, in its latest full-year results, for the year ended 31 March 2018.
"Saputo is one of the top ten dairy processors in the world. Both companies have built strong positions in the cheese sectors in their respective home markets," commented Stephen Alexander, chairman of Dairy Crest.
"The acquisition should enable Dairy Crest to benefit from Saputo's global expertise and strong financial position to fulfil and accelerate its growth ambitions.
"The businesses have strong shared values and the board is confident that Saputo's plans to invest in and grow the Dairy Crest business mean the proposed transaction is positive for all its stakeholders."
Lino Saputo, chairman and chief executive of Saputo, said: "Dairy Crest is an attractive platform for Saputo and fits well within our growth strategy.
"We believe that under Saputo ownership, Dairy Crest will be able to accelerate its long-term growth and business development potential."
The deal is scheduled to complete in the second quarter subject to shareholder approval.
In recent years, Dairy Crest has shifted its focus towards its more profitable cheese business after selling of its dairies to rival Muller in 2014.
Dairy Crest shares have surged 13.2% to 628.3p in early trading.
Morning update
The number of UK food and drink deals increased in 2018 despite economic uncertainty, but City dealmakers have warned that Brexit-related caution has dampened activity.
The number of industry deals completed in the UK last year grew to 68, from 66 in 2017, according to new data from advisory firm Alantra, while the number of global transactions also surged.

Figures from Zenith Global showed the number of acquisitions across the industry globally rose to 777 in 2018 from 729 in the previous year.

While the 2018 figures defy concerns over global consumer markets and specifically economic prospects in the UK post-Brexit, worries over the UK leaving the EU have dampened domestic deal volumes this year.

One advisor told The Grocer he was taking on more clients elsewhere in Europe due to the dearth of activity in the UK.

"The market for M&A for UK food companies has slowed down quite sharply in the last three months or so," he said.

"People are being far more cautious," he said. "One of my colleagues called it the schmuck factor. Nobody wants to be the schmuck who buys a food business in the UK now, only to find the profitability severely impaired over the next two or three months."
Grant Thornton food and beverage research manager Joanna Penny added: "Investors are however viewing the market with more caution and are being more selective in deciding where to invest their money."
Read the full story on the Grocer's finance section later today
The FTSE 100 has opened higher this morning, rising 0.2% to 7,180p, as it is aided by the weak pound.
Today's early risers include Just Eat (JE.), up 2% to 713p, PZ Cussons (PZC), up 1.1% to 200p and Greencore (GNC), up 1% to 202p.
The early fallers included Glanbia (GLB), down 2.5% to 17.7p, Hotel Chocolat (HOTC), down 1.6% to 305p and Tesco (TSCO), down 1.2% to 223.4p.
Yesterday in the city
The FTSE 100 struggled yesterday, sliding 0.8% to 7,167pts as Wall Street shares also lagged over the day.
Cheese and milk producer Dairy Crest (DCG) was one of the day's top performers, rising 5.9% to 555p.
Household products manufacturer McBride (MCB) saw a slight rise in share value, rising 1.4% to 57.2p as it revealed a 10.5% rise in revenues in the first half of the year. However, the jump came on the back of a 33.2% slump in value on Wednesday, when it issued a profit warning.
Other risers included Majestic (WINE), up 4.7% to 288.5p, Bakkavor (BAKK), up 3.7% to 170p, and Marstons (MARS), up 2.5% to 97.3p.
Food delivery firm Just Eat (JE.) slumped again, sliding 4.8% to 699p, after activist investor Cat Rock issued a statement declaring it had the backing of a significant number of shareholders regarding desires to merge the business with a rival.
Other fallers included Imperial Brands (IMB), down 4.1% to 2,601p, Purecircle (PURE), down 2.7% to 262p, Treatt (TET), down 3.3% to 440p.