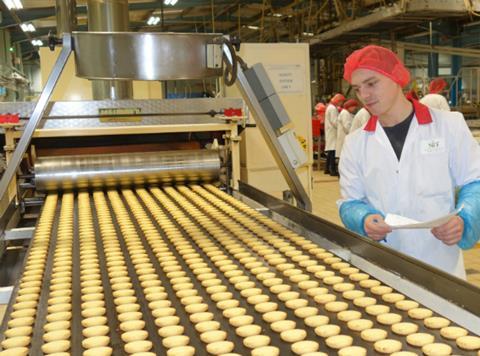 Northumbrian Fine Foods, the UK's leading gluten and milk-free biscuit manufacturer, has been purchased by French giant Biscuit International.
The company behind Prewett's gluten-free biscuit has been acquired for an undisclosed amount from CriSeren Foods Ltd.
Biscuit International, one of Europe's leading private label sweet biscuit manufacturers, announced the acquisition of the business today.
Northumbrian Fine Foods (NFF), was created in 1936, and has grown to an annual turnover over £27m for 2017 through both own-label and branded biscuits, including Prewetts.
The company featured in 2017's Grocer Fast 50 (at 49) after boosting production capacity by 30% with a £1.2m biscuit line in 2016, backed by Regional Development Grant funding, which created 40 new jobs. Company sales grew 26% over the year, boosted by gluten-free cookie lines.
Biscuit International said the acquisition will allow it increase its offering to its European clients while reinforcing its presence in the UK.
On the acquisition, the company added that it saw an "opportunity for growth" in the free-from sector.
"The European free-from market is very dynamic and represents a real opportunity for growth. NFF's expertise in gluten and milk-free biscuit production was a major attraction to us and the business provides an excellent fit into our portfolio of companies," said Biscuit International CEO, Giampaolo Schiratti.
The company already owns continental biscuit manufacturers Poult in France, Banketgroep in the Netherlands and A&W in Germany.
"This acquisition by Biscuit International is great news for NFF and provides the platform for us to expand into Europe where we see significant opportunities for developing the gluten-free biscuit sector," said Stewart McLelland, managing director of NFF.
"Biscuit International are a forward-thinking business and their plans for NFF will further enhance our position as the UK's number one gluten and milk-free biscuit manufacturer. We are very proud of our achievements here at NFF and through the hard work of all our staff we have created a sustainable and secure business with a great future."
Senior management at NFF will remain unchanged, and they decided to invest in Biscuit International equity alongside the other Biscuit International senior managers.
The shareholders of Northumbrian Fine Foods were advised by KPMG Corporate Finance, UNW and Muckle LLP.
Biscuit International was advised by Deloitte LLP, Simmons & Simmons LLP and Cleary Gottlieb Steen & Hamilton LLP.
James Murray, corporate finance partner at KPMG, commented: "This is a fantastic deal based on strong strategic rationale. Northumbrian Fine Foods is the UK's leading gluten free biscuit manufacturer and the acquisition by Biscuit International will allow it to further expand into Europe. It will also enable Biscuit International to access the fast growing free-from market and further develop its presence in the UK."