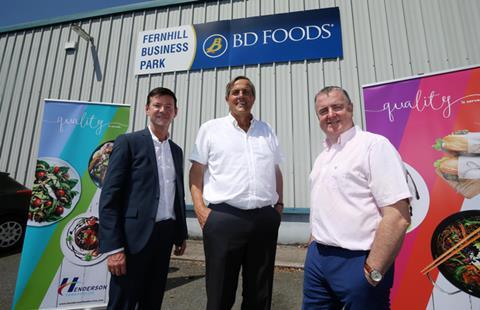 Henderson Foodservice has acquired Irish premium foodservice supplier BD Foods as part of a £25m investment in staff, business development and facilities.

The acquisition is designed to strengthen Henderson Foodservice's offering to hotel and restaurant businesses.

Henderson Foodservice MD Damien Barrett said his team was pleased to welcome the staff and management, adding that the two companies had an "excellent synergy" and a similar approach to employee relations, customer service and business.

BD Foods will operate as a standalone business following the completion of the acquisition, retaining its name and corporate identity.

"The acquisition is an exciting time for us as a business," said Barrett. "BD Foods is a terrific company with a strong reputation and like the Henderson Group, is a family run business with a positive work ethos and is a significant employer in its locality.

"Our purchase of BD Foods will strengthen our product portfolio at Henderson Foodservice specifically in the hotel and high-end restaurant business. It also presents substantial opportunities for us to increase our customer base across Ireland."

BD Foods MD Paul Bowe said: "This is an excellent move for our staff and management team and will enable the company to progress and expand more quickly and efficiently which will ultimately benefit both staff and customers.

"Many of our customers started out with us over 20 years ago and are still trading with BD Foods. As part of Henderson Group we believe we can further grow those relationships and better service our customers both new and established."

It comes as part of a wider investment by the Henderson Group which saw it launch a £12.5m warehouse at its headquarters in Mallusk back in September. It also received planning permission in May to redevelop its Hightown Warehouse.

BD Foods supplies a range of frozen, fresh and dry goods to foodservice operators throughout Ireland. It is located in Glaslough in County Monaghan in the Republic of Ireland.

The firm was first established in 1993 as Barbarrie Duckling Ltd to supply a growing Irish catering industry with Barbarrie Duck and other poultry from France.