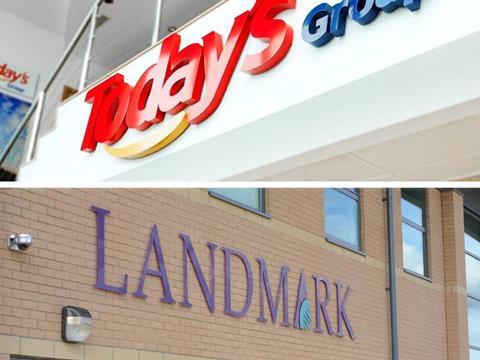 Landmark Wholesale and Today's Group expect to announce the new Unitas Wholesale board structure on Thursday, following last week's vote in favour of a merger.

A presentation to staff on the proposed structure of the merged organisations under the new Unitas umbrella will follow on 24 September, which will trigger a 30-day consultation and selection process.

Darren Goldney and John Mills, respectively managing directors of Today's and Landmark, said the structure would be confirmed once staff had the chance to provide feedback.

They said Caterers Kitchen, Landmark Wholesale's foodservice own brand, would be retained along with "a number" of Landmark Wholesale exclusive brands, such as No.3 cigarettes, LSV energy and sports drinks and Prince Consort spirits.

"It is planned that Landmark's Lifestyle retail range and Today's retail ranges will be relaunched under a new brand name in 2019," they said.

Exact timings were to be confirmed, with carefully planned support provided to retailers to manage the phasing out of the old brands and the introduction of a new own-brand retail range.
"Retailers can be assured of continuity of supply and ongoing communication during this process," they told The Grocer.

The two MDs said that "as part of a £9bn-plus group with a much enlarged retail estate, suppliers will be able to efficiently access a much greater universe and that will make us more attractive in securing the best promotions, prices and support for promotions, category management and NPD initiatives that help drive sales for suppliers and retailers".

Mills and Goldney said suppliers' reaction to the creation of Unitas had been "overwhelmingly positive".

By having fewer points of contact with access to greater reach and scale, Unitas would immediately become more efficient, they added.

"During 2019 we will become more effective in our sales capability by integrating the very best of our best practices in terms of promotions, range, digital, print and services.

"We are excited and focused on making Unitas Wholesale the best independent wholesale buying group in the UK," they said.

Greg Suszczenia, managing director of Landmark heavyweight Parfetts, said he was "genuinely pleased" about the merger.

"The work carried out by both sides up to this point has been exemplary and instils me with confidence for the future," he said.

"I am a passionate believer that we are moving into a commercial age of independence and individuality. However, consolidation by manufacturers and wholesalers means that scale still carries a lot of weight. Member entrepreneurialism combined with the umbrella of a modern trading body is a pretty impressive combination."

Suszczenia said the new board must give Unitas clear expectation of its role. "A trading group is very different to a conventional head office. It does not drive strategies or place orders. What it must do is find the common ground regarding commercial opportunities and issues from the members and present these to the suppliers as one voice. This will involve ongoing hard work, market awareness and communication with its members."

Marcus Singh, managing director of Hyperama, another Landmark member, said he was "very pleased". He added: "We will be part of a stronger and bigger buying group that is more sustainable and reduces the suppliers' cost to serve in this channel."

Craig Brown, retail sales director of Today's member JW Filshill, said: "We've got The Today's conference this weekend in Venice and we're really looking forward to it because I think there will be a real burst of energy in the room among all the delegates and members.

"Obviously there will be a lot of work to be done in terms of integration. I think Unitas will be an attractive proposition for others out there."