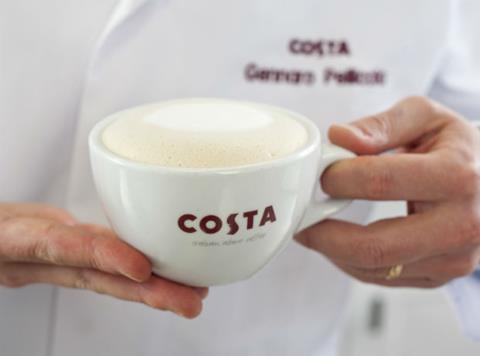 Coca-Cola's £3.9bn deal to buy the Costa Coffee chain has highlighted the lengths to which food and drinks companies are going to keep pace with rapidly changing consumer habits that are upending business models across the sector (Financial Times £). Although the purchase price is small in the context of Coke's $191bn market capitalisation, some bankers described the acquisition as among the most important strategic moves the US beverage maker has made in its 132-year history. The takeover will overnight turn Coca-Cola into the UK's biggest coffee shop player and give it a foothold in what is one of the world's fastest-growing drinks categories (The Guardian). Former Reckitt Benckiser chief executive and chairman of Pret-owner JAB Holdings, Bart Becht was also interested in making a swoop for Costa (Daily Mail).
Coca-Cola's chief executive James Quincey has turned to his homeland as he makes his mark on the soft-drinks maker, wrote the Financial Times (£). Little more than a year since he replaced Muhtar Kent at the helm, the Atlanta company's first UK-born head has made a £3.9bn swoop for Britain's Costa Coffee chain.
A stalwart of Britain's corporate landscape faces the threat of possible extinction as the City bets that Whitbread's £3.9 billion sale of Costa Coffee to the Coca-Cola Company could spark bid interest in its Premier Inn business (The Times £).
"Wake up and smell the froth: Whitbread shares up 14 per cent. And just for flogging costa coffee. How painful was that? To think it spent years insisting the business wasn't for sale", writes Alistair Osborne in The Times (£). "There must be real questions as to whether Coca-Cola will be so enthusiastic about running coffee shops, as opposed to brewing and chilling cappuccinos once it has turned Costa into a global cold drinks brand," writes Alex Brummer in the Daily Mail.
Sainsbury's is embroiled in a row over standards following City claims that cost cutting and restructuring has resulted in empty shelves and messy shops (Telegraph). Analysts at stockbroker Shore Capital warned in a note last week that Sainsbury's stores were displaying "poor standards" including gaps on shelves, unmanned checkouts and "general untidiness", and suggested recent cost cutting was to blame.
Ocado's bosses have sold £150m of shares this year as the stock has rocketed thanks to a series of international licensing deals for its warehouse technology (The Sunday Times £). Tim Steiner, the FTSE 100 company's co-founder and chief executive, has offloaded £127m of shares in three tranches since November, when Ocado struck an agreement to build an automated warehouse for Groupe Casino of France.
Aim-listed baker Finsbury Foods has seized on the burgeoning popularity of gluten-free diets with a £25m takeover of family-owned specialist Ultrapharm (Telegraph). Ultrapharm, based in Pontypool, Wales, makes gluten-free bread, rolls, muffins and cake for clients including Marks & Spencer.
The rights to spring water supplying an important Heineken plant in Brazil's north-east are the subject of a legal dispute, in a case being closely watched by foreign investors in Latin America's largest country (Financial Times £). A local businessman, Maurício Brito Marcelino da Silva, is fighting a court battle with the government for the rights to mineral resources at the plant site in Alagoinhas, Bahia state, including the spring being used by Heineken.
Writing on arguments for regulation or taxation of Amazon, The Financial Times' (£) Rana Foroohar says: "Amazon has a big stick. But the one wielded by populists in years ahead may be bigger."
Amazon is set to become the latest tech giant to break through the $1 trillion valuation level amid a stampede of customers signing up to its lucrative membership programme (The Sunday Times £).
Shares in France's Casino plummeted as much as 15 per cent on Friday afternoon after a key finance entity told investors it did not file financial documents (Financial Times £).
Britain's oldest wine and spirits merchant has recorded its strongest sales since 2011 as a revival strategy starts to bear fruit after three years (The Times £). Berry Bros & Rudd said that it had generated turnover of £187 million last year, a seven-year high and representing year-on-year growth of 9.4%.
The chief executive of Unilever has defended the Dutch government's decision to scrap a dividend tax (The Times £). Paul Polman's support for politicians in the Netherlands comes after the Anglo-Dutch group picked Rotterdam over London for its headquarters.
Shares in Japanese Yakult yoghurt manufacturer Yakult Honsha Co. u-turned to grow 2% following product placement in new Netflix film 'To All The Boys I've Loved Before' (Bloomberg).
The operator of the Frankie & Benny's and Chiquito brands has signalled growing confidence in its turnaround strategy with the acquisition of a group of 11 pubs and café bars in London (The Times £).
Gourmet Burger Kitchen has become the latest restaurant chain to hire restructuring advisers as diners desert the high street (The Sunday Times £).
Homebase landlords have gifted the stricken DIY chain a much-needed lifeline and rescued it from the brink of collapse (Daily Mail). In a make-or-break vote on Friday, 96 per cent of creditors green lit the DIY chain's proposals to close 42 shops through a company voluntary arrangement.
Mike Ashley, the founder and chief executive of Sports Direct, will not attend the retailer's upcoming annual meeting owing to "overriding demands for his time", investors have been told (The Times £).