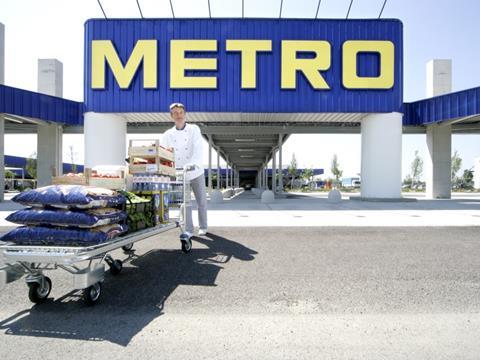 German supermarket giant Metro Group has announced a major acquisition along with its latest trading results in which like-for like group sales climbed 1.6% in the first nine months of the year, but fell 0.4% in the third quarter.
Metro bought Singapore-based food distribution firm Classic Fine Foods Group (CFFG) from private equity business EQT for up to $328m (£210m).
The deal will see Metro Cash & Carry expand its presence in wholesale to another 10 countries, to take it to a total of 36.
Metro's total sales fell 1.2% over the first nine months from €45.5bn (£31.8bn) to €45bn and dropped 1.4% in the third quarter from €14.2bn to €14bn.
EBIT before special items fell short of the previous year's period in the first nine months of the financial year at €1.08bn compared with €1.13bn previously. EBIT before special items came in a €209m, 8.3% above consensus but 17.4% down on 2014's third quarter, because of lower property profits.
Metro Cash & Carry sales fell 2.5% to €22.3bn last October until June and like-for-like sales increased 0.9%. It blamed the different timing of the Easter business for a 1.3% sales decline in the third quarter of this year. The different timing also impacted on its Real supermarkets.
Chairman Olaf Koch said the positive operating trend continued in many parts of the group during the third quarter of the current financial year.
Jefferies analysts said while the group was seeing continued momentum into July, full-year EBIT guidance had been reconfirmed for continuing operations. However, weakening cash and carry sales in emerging markets was "a key new challenge that is likely to premise a mixed end to 2015 for the stock".
Bernstein described the performance as "solid".
The broker saw the acquisition of CFFG as a good complimentary acquisition that would enhance two growth channels – Asia cash & carry and cash & carry delivery in Western Europe.