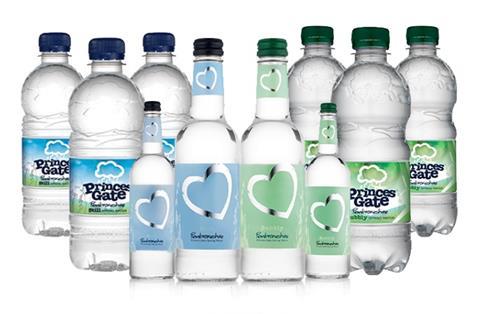 Nestlé Waters, which is known for its Buxton and Pure Life brands, has acquired a majority stake in Princes Gate Spring Water Ltd for an undisclosed sum.
The acquisition is intended to strengthen Nestlé Waters' position in the UK, with Princes Gate the eighth largest manufacturer of bottled water in the UK, a market of £3.7bn that has grown by 8% each year for the past five years.
Princes Gate Spring Water Ltd. was founded in 1991 by two brothers, David and Glyn Jones in Princes Gate, Prembrokeshire. It supplies spring water to retail and OOH channels as well as under other brands
"I am pleased to welcome Princes Gate to the Nestlé Waters family. This company has grown very successfully over the past 27 years and shares many of the same qualities and values as our existing Waters business," said Michel Beneventi, managing director of Nestlé Waters UK.
"In the UK, consumers are increasingly choosing healthier hydration options and consequently the demand for high quality spring and mineral water continues to go up. This acquisition reinforces our position in the UK and will allow us to effectively respond to customer demands and consumer expectations."
The move is the latest acquisition by Nestlé which has, in the last few weeks, also purchased a majority stake direct-to-consumer dog nutrition business Tails.com and announced a $7.1bn deal for exclusive rights to sell Starbucks drinks brands.
The Pembrokeshire bottled water manufacturer, which featured in The Grocer's Fast 50 last year, will be "supercharged" by the deal, commented company founders David Jones and Glyn Jones.
"We started this business 27 years ago as a family and have built this business enjoying loyal relationships with our customers and employees. I am delighted we have found the perfect company to help supercharge our business.
"With the growth opportunities that lie ahead, we believe we have found the best partner in Nestlé Waters to help propel the business forwards for the future."
David Jones will keep a minority stake in the company.