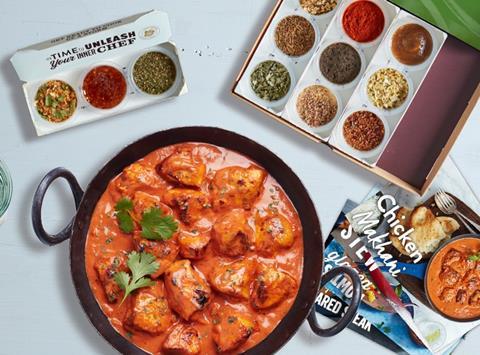 Recipe kit brand SimplyCook has secured £4.5m in equity funding from Octopus Investments to help drive its growth in retail stores.

The investment group has purchased a minority stake in the fast-growing meal supplier to support its growth plans.

SimplyCook delivers recipe kits containing flavourings and spices to customers by post, and last year expanded into stores, partnering with Sainsbury's.

Octopus' deal highlights the current fervour from investors to cash in on direct-to-consumer grocery brands, following major fundraises by meal kit brands Gousto and Mindful Chef, which secured £18m and £6m cash boosts respectively in the past fortnight.

Cash from the deal will be used to increase brand awareness across the UK through increased sales and marketing expenditure, and to invest in technology development.

The subscription-based business was launched in 2014 by Oli Ashness in a bid to provide consumers with the necessary flavourings to enjoy new recipe ideas.
SimplyCook had continued its rapid growth into 2019, said Ashness, having doubled sales in 2018 following threefold growth in the two previous financial years.

"We've secured more than we need so it's good to have a meaningful round that really puts us in a position of strength to grow," he said.

"Octopus shares our ambition for ubiquity while also understanding why our unique model focused around flavour - and steering clear of fresh food delivery - is well positioned.

"We also want to grow the retail business this year and we want to use some of our data from e-commerce to help direct NPD there."

The cash boost follows a £2m funding round in July 2017 led by Maxfield Capital, as well as a ­successful £600k ­crowdfunding campaign in 2016.